We are working to set our next workshop slated for October 5th at 5:30 PM. As much has changed and many small businesses have been hammered by the economic impact of this pandemic. Getting your business back on track is crucial, and we're looking to help make sure your marketing plan is up to date! This is event is designed to help 2021 to be the recovery year from the business losses in 2020.
---
Please complete the form if you're interested in checking availability to attend our next BrandKamp workshop on Monday, October 5th at 5:30 pm. Remember, must RSVP due to limited seating.
Transform Your Local Brand from Good to Great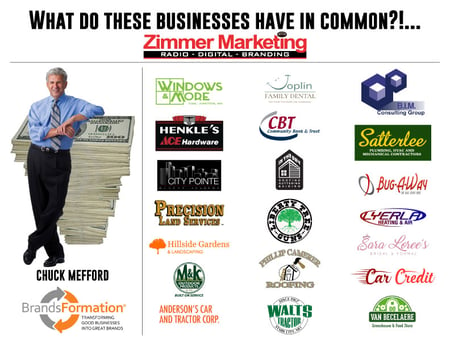 How can you transform your GOOD local brand into a GREAT one? (And yes, there is a huge difference between the two.)
Author of four books, Fortune 500 and small business marketing consultant, Chuck Mefford, is coming to Joplin to share his brand-building system with a limited number of business owners and marketers. His system has been used for years by companies in Joplin, Columbia, Jefferson City, and Springfield transforming them into household names. Chuck's system is proven to connect emotionally with customers and help brands increase market share.
Join Chuck and Zimmer Marketing for BrandKamp 2021
Fill out the the form to request a ticket. There's no cost to attend (and you won't be asked to purchase anything).
RSVP today:
Joplin BrandKamp
Date: October 5, 2020
Time: 5:30 PM
Where: Joplin Holiday Inn (SEATING IS LIMITED due to Social Distancing Requirements)
What will you learn at the BrandKamp?
How to create effective ads that yield great results through superb storytelling
4 steps to develop your brand and dominate mental real estate
How to uncover your difference maker
Actionable tips to be the business people think of first when they need what you offer