Jennifer Edgar, Creative Assistant / One Air Talent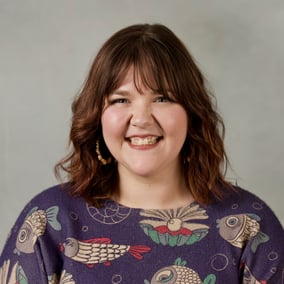 What is your favorite part about what you do?
I love the spontaneity of each day! Radio is constantly changing, and with different clients, events, community involvement, news, etc. there are no two days the same in the creative department, or on-air.
Certifications and training?
I've worked in radio since I was 19! So, let's just say it's been awhile. While earning a Journalism and Mass Communications Degree from Kansas State University, I worked as the Program Director for Kansas State's student-run radio station. I've hosted two morning shows, one on a rock station, the other on a country station, and have voiced every day part. With each company I've worked for, I really try to envelope myself in the knowledge of those around me. The more I know, the more valuable, I am, so I have a fairly diverse skill set from hands-on learning. Call me a Jen-of-all-trades.
Favorite type of music?
I'm an avid rock fan, but I appreciate any music that makes me feel something.
Favorite activity outside of work?
We're big board-gamers in my family, and collect variations of Uno. We have nearly 20 different Uno games, with aspirations to keep the collection growing!
Check out our latest blog posts: