Thom Watts, Operations Manager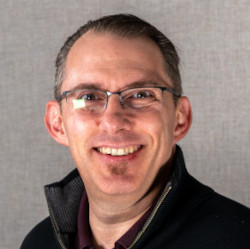 What is your favorite part of what you do?
The music and the fun.
Certifications and training?
Associates degree in Communications from Coffeyville Community College, BA in Communications from Pittsburg State University, plus lots of part-time/weekend shifts early in my career working whatever hours I could beg.
Favorite type of music?
Hard to pin that one down, and truly depends on my mood. My music collection is kind of a scary place to visit. I like everything from Barry Manilow to George Strait to LL Cool J to Led Zeppelin to classical. I miss New Jack swing. LOVE "mashups" (Recordings created by combining and synchronizing instrumental tracks with vocal tracks from two or more different songs/genres. "Artists" like Rock Sugar, Wax Audio, DJ Cummerbund, and Bill McClintock) If I had to pin it down to an era, anything that played on pop radio from '75 to '85.
Favorite activity outside of work?
Spending time with the family... camping, fishing, anything outdoors, and videogames.
Connect with Thom:
Check out our latest blog posts: