Overview | Part 1: Brand | Part 2: Website | Part 3: Annual Plan | Putting it All Together
Part 1: A Strong, Identifiable Brand
The first part of the formula, developing a strong brand, is arguably the most important of the three. Because it represents who your business is in your audience's mind, it's critical that you approach your marketing and advertising by starting with your brand, and letting that guide the other two critical elements of our three-step formula.
Why Branding Is So Important
It's easy to recognize branding for big businesses—they've got the money to saturate the market with their logo, jingle, and ideas. But branding is just as critical for small businesses because it's the great differentiator. Your competitors may offer similar products and services, but your company is identifiable and memorable because of your branding.
Did you know that people are willing to pay 75% more for brand-name Coca Cola than a generic store-brand cola?
That's because Coke, as a brand, represents quality. More importantly, it represents an experience. Branding is about how customers feel when they think about your company, and that feeling can be more powerful than logic when it comes to choosing which brand they want to buy from or do business with.

Effective branding can also help customers trust your company. The more they can identify with your brand, the more likely they are to choose your brand again and again. Your brand is about much more than just the end product or service. It's about the problems you solve, and how you solve them.
The Parts of a Brand
As you can probably guess, because your brand means so much, branding involves more than choosing the right logo and font for your company business cards and signage. To a point, it should encompass everything your business does. In terms of marketing, the elements you need to consider can include: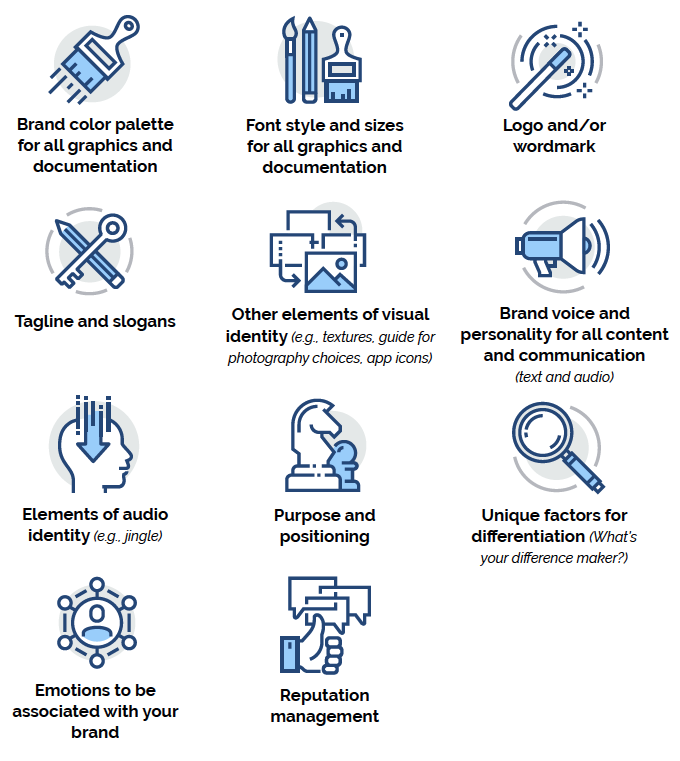 The Intangible Elements of Branding
Beyond your marketing, your branding will include your company's reputation and how customers perceive your business. Can you deliver on your promises to customers? Do you take the time and work hard to resolve problems that customers have? How do you handle the causes and ideals that are most important to them?
The most critical part of branding is consistency. As the purchase journey becomes more fractured and customers find you in more places, presenting a consistent brand image prevents the sort of confusion that sends customers and clients to your competitors.

You want your customers to immediately be able to recognize your company, products, and services, no matter where they find you. This is brand awareness, which in turn can lift ad and message recall.
Building an Effective Brand
With so many factors to juggle, "branding" may seem overwhelming as a marketing initiative. It is a substantial undertaking that requires patience and persistence, but nevertheless it is critical to your business success. The more branding is engrained as an objective in your marketing plan, the easier increasing brand awareness becomes.
Get started with these five steps:
Start by defining your target audience.
If you try to speak to everyone, you won't impact anyone. Instead, focus on dominating the mental real estate of your target audience. That doesn't mean you can't reach broad audiences, but you do need to narrow your audience down so you can reach the right people for your business. Remember that nuances matter, especially for small businesses. Segmenting your audience lets you craft the most effective creative across all your communication channels. Commit to doing the research necessary to base your decisions on real data, not assumptions about who your customers are and what they want.
Develop your voice and identity.
Now that you know who your audience is, you can establish your brand as something that appeals to them. Have a logo designed professionally to reflect your company purpose and positioning. Choose elements as mentioned in our list above that will pique interest in your company while building your credibility.
Leverage the channels your target audience uses…
There used to be a limited number of ways for a company to reach out to its audience. Now, people use multiple devices and myriad services, many of which provide a touchpoint opportunity for your company to showcase your brand personality (while influencing their brand opinions and purchase decisions). Determine the channels they're using and build an integrated strategy focused on those opportunities.
Facebook, for example, is a huge social media platform that many people use. However, if research does not support that your target audience is active on social, then paying for Facebook Ads won't yield the results you need. Be where your audience is.
… Including radio.
In Joplin, radio regularly reaches 97% of the population aged 12 or older. That's a powerful amount of reach! Radio is unique because it uses theatre of the mind to engage people's imagination and to evoke emotion, making it the perfect medium for establishing your company culture and values as well as running action campaigns or sponsorships. Radio personalities also have a huge influence with their audience, giving your business potential opportunities for endorsements that further build brand awareness and lift brand perception. Choose the right station based on your target audience.
Tell stories.
Most audiences don't want to hear a sales pitch. They want to know why they should care about your company and what your company has to offer them. Remember, people's decisions are heavily influenced by their emotions, and the best way to tap into that is through telling stories. At Zimmer Radio Inc., we utilize a system that we call Bricks and Mortar. The bricks are stories that dramatize your unique selling point (or difference maker), in a way that connects emotionally with listeners. The mortar represents the consistent elements that tie each story together, such as the visuals you use, a consistent voice actor, the music that plays under your radio ad, or even your jingle.
Be consistent!
We recommend creating a guide that captures and clearly defines not just the design elements we mention above, but your brand mission, vision, and values. By documenting your brand guidelines, employees of all types are prepared to communicate, develop content, and engage with customers in a way that's true to your brand. We cannot emphasize the importance of consistency enough.
Next up—we'll cover what makes a business website effective. Continue to Part 2: A Solid Website.
Or skip ahead:
Complete the form to download a PDF of the full guide.