Overview | Part 1: Brand | Part 2: Website | Part 3: Annual Plan | Putting it All Together
Part 2: A Solid Website
Think of your website as your digital storefront. If you have a brick-and-mortar location, visitors expect a clean store that's well organized. They want to be able to tell at a glance whether it's the type of store they want to spend any time in. And they want it to be easy to find what they want, and just as easy to check out. Whether you have a brick-and-mortar location or focus on ecommerce, the very same can be said about your website. It's the digital representation of your business and a key part of your brand.

Why Your Website Is Vital
Technology changes quickly, and not so long ago it probably seemed like having a website wasn't necessary. Small business owners didn't always see the benefit in spending limited marketing funds on website design.

But this is a big mistake. In today's business environment, having a well-designed website isn't an option—it's a necessity. One key reason is discoverability. When consumers are considering what and where to buy, they turn to the internet for research.

When your customers look for information on stores, products, and services, will they find your business, or will they find your competition instead? What impression will they take away about your brand? Will they want to head straight to your store?

Having a well-designed website is another critical touchpoint in your integrated marketing strategy and an important part of your branding in other ways as well. It provides a home for landing pages associated with different campaigns and can host content (like blogs, case studies, videos, and more) that's influential in building your brand's credibility and value with your audience.
Key Considerations
Having a strong website certainly relies on having a professional design centered around the visual identity you established as part of your branding. But it also requires more than that to accomplish your business goals, like mechanisms for lead generation and sales.
Mobile Friendliness
In 2015, the number of mobile Google searches surpassed the searches done from a computer, and the number of purchases made through mobile devices is climbing as well. That's why Google introduced mobile friendliness as a ranking signal. Essentially, if a web page doesn't meet certain criteria, it will be down-ranked on a search engine results page, potentially knocking your site out of a coveted slot that's most likely to garner results.
Here are some of the critical elements to be labeled mobile-friendly: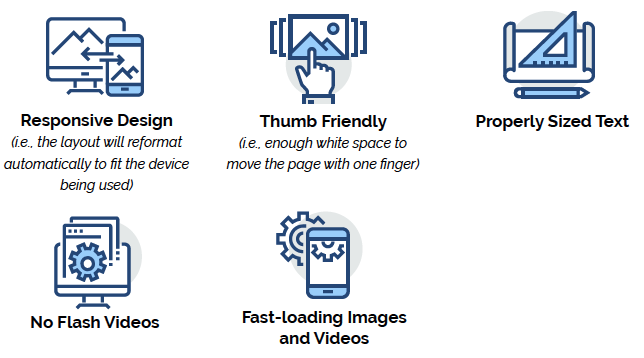 Fast loading speed is very important. Users don't have the patience to wait very long for pages to load. Google's standard recommendation for retail is a mere two seconds. Anything longer than three means users will abandon the page. However, there are benefits to being fast: pages that load one second faster see nearly a third more conversions.
SEO
Otherwise known as search engine optimization, SEO is an ever-evolving set of rules used by search engines to determine how pages ought to be ranked in response to a user's search. The higher a result is in the list, the more likely it is to directly relate to the search, and thus the more likely it is to be clicked.
It's important to follow SEO best practices, such as the aforementioned mobile friendliness, selecting strategic long-tail keywords to help your page stand out for specific searches, regularly updating quality content, and properly defining metadata. The rules change quickly, so be sure you regularly check on the latest updates from Google and other search engines to maintain or improve your site's rank.
Building a Better Website
Whether you need to create a website or want to improve the one you have, there are certain elements that should be addressed.
Professional and Responsive Design
Your site needs to look fresh and up-to-date no matter what device it's viewed on. It should look like your business means business. It's possible to develop a site on your own and look great if you use the right platform and tools, but be sure that you have the time and skill to do it right. Hiring a professional can be very affordable and lead to amazing results.
Clear Navigation
The harder it is for a visitor to navigate your website, the more likely they are to give up and try a different site instead. Make pertinent information (especially contact info) easy to find, and make it as simple and straightforward to move around your website as possible. This is especially important for ecommerce sites—the harder it is for a customer to check out, the less likely they are to complete their purchase.
Commitment to SEO and SEM
SEO and SEM (search engine marketing, a type of pay-per-click ad that appears with search results) are very important to your company being discovered when a potential customer is looking for a product, services, or content related to your business. Do the market research necessary to determine the right keywords to have your brand in the best position for pertinent searches.
Landing Pages
When running a marketing campaign, having a specialized landing page can provide the supplementary information and calls-to-action necessary to pull a lead toward the next step in conversion. These should follow your branding guidelines, but should be geared solely to the campaign.
Claimed (and Up-to-Date) Online Listings
While this isn't just about your website, it definitively includes your website. Online business listings are another way to make your business easy to discover, locate, and contact. In addition to providing information within the listing service itself, it helps to boost your website's SEO.
Sometimes your business information can be added without your knowledge, or if you did add the information, it could have been added long enough ago that the information is not entirely accurate anymore. Whether you need to create, claim, or correct a listing, the information provided should include your business name, physical and/or mailing address, phone number, and website URL.
There are a variety of listing sites you may need to check, and some of them you may not expect. Start here:
Google My Business (also adds your business locations to Maps, shares additional info like hours, may show ratings)

Yelp (shares additional information like hours and prices, also provides a platform for user reviews and ratings)

Bing Places (shares additional information like hours, may show ratings, adds to map)

YP.com (also provides a platform for reviews and business responses)

Facebook (shares information like hours, adds to map, provides platform for reviews and engagement as well as messaging service)
We're one part away from the full formula for small business success. Now that you have your brand and your website, it's time to think about your marketing plan. Continue to Part 3: A Smart Annual Marketing Plan.
Skip ahead to our final chapter, Putting it All Together for a Year of Marketing Success, or complete the form to download a PDF of the full guide.