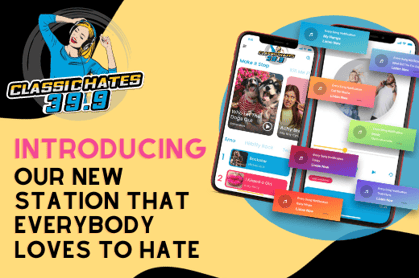 Zimmer Radio is pleased to announce we are bringing a new radio station to Joplin: "Classic Hates 39.9!" On Classic Hates we will only play the worst rated songs in history, the songs that get stuck in your head and make you wish you could erase your memory entirely. As a company, we believe in pioneering radio excellence and, as such, this new station will be the first of its kind. No other radio station in the world uses our new format.
Look forward to hours of absolute nausea as we play song after song of the worst the music industry has to offer. When you're bored of cliché "best of" stations, Classic Hates is here to give you a much needed respite from quality, enjoyable music. When you're on your morning commute you're not in the mood for upbeat music, you need a station that matches your mood - you need Classic Hates.
Featured Songs on Classic Hates 39.9
We've dug through the worst rated songs throughout the decades to bring you the truly most awful songs in history. Take a look at a preview of the lowest rated songs you can expect to loathe on Classic Hates:
Achy Breaky Heart - Billy Ray Cyrus
You're Beautiful - James Blunt
Rockstar - Nickelback
My Cadillac Gets Me Attention - Lloyd Schmitt
Baby - Justin Bieber
Who Let the Dogs Out - Baha Men
The Christmas Shoes - NewSong
Ice Ice Baby - Vanilla Ice
I Lost My Watch - SeaSponge
Don't Worry, Be Happy - Bobby McFerrin
Ob-La-Di, Ob-La-Da - The Beatles
I Played Chicken With a Train - Cowboy Troy
I Kissed a Girl - Katy Perry
Ironic - Alanis Morrisette
It's a Long Drive to Toronto - Nancy McMannis
Play That Funky Music - Vanilla Ice
Shiny Happy People - R.E.M.
I Got the Flu (Sick for You) - Run Away Cats
Hip to Be Square - Huey Lewis and the News
Never Gonna Give You Up - Rick Astley


Classic Hates Smartphone App
Alongside the launch of Classic Hates 39.9, we will also offer a smartphone app available for Apple and Android users. The Classic Hates 39.9 app will launch a completely new feature not currently on any of our other apps! Each time a song plays on Classic Hates, users will receive a notification from the app. The new feature will make sure you never miss an awful song again. The Classic Hates app will also have all the same features from our other station apps including:
Alarm clock
Vote for your most hated songs
Stay up to date with weather forecasts
Open mic allows you to request songs and talk to us
Enter contests on Classic Hates 39.9
It's too bad to be true! The station you never knew was missing from your life is here not to stay! April Fools! There is no such thing as Classic Hates 39.9 and there will be no app.