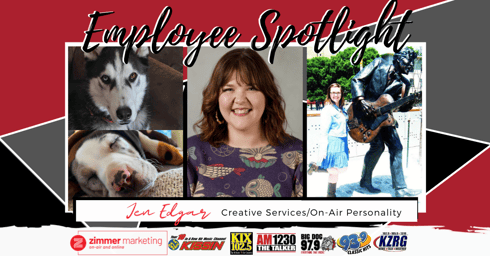 Here at Zimmer Marketing, we are a one-stop shop. We have a team of both radio and digital marketing experts, who work with businesses in the four states area to develop effective, integrated marketing campaigns. This comes with many different moving parts in making sure our clients see success. Every person on our team has an important role to play in this process. This Employee Spotlight series will focus on highlighting each member of our team, so you can get to know the people behind the scenes that make our success possible.
This edition of Zimmer Marketing's Employee Spotlight features Jen Edgar; Creative Services/On-Air Personality.
What is your favorite thing about working for Zimmer Marketing?
"The people! Everyone is so talented and passionate, and want to genuinely good work while having fun! I appreciate the warm welcome since starting earlier this year."
If you wish you had written one song, what would it be?
"Edge of Seventeen by Stevie Nicks... SO GOOD!"
What is the best show you've watched on a streaming service?
"Squid Game on Netflix blew my mind!! Virgin River is good for a good cry!"
Who is your favorite singer/band?
"M Shadows or Doja Cat. Completely different, but two artists who can do it all, and more, in their genres."
Who would play you in a movie about your life?
"Pamela Adlon. I have voice envy!"
If you could go anywhere in the world on vacation, where would you go?
"Paris. I took French classes from 7th grade through college. A trip to France is on my bucket list!"
"iPhone! I'm an Android defector."
If you had to live in another time period, what would you choose?
"Take me back to the 90s! Hush puppies, Lisa Frank, and grunge music!"
Favorite holiday?
"Christmas! It's the happiest time of the year! Bring on the snow, cocoa, family time, and a month of Christmas music!"
"Dogs, but really both, but really foxes. They are my favorite!"
"Insta all day!! Less awkward people I'm trying to avoid."
What's one thing most people don't know about you?
"My left nostril can twitch on it's own! It's very bunny-esque."
What's your favorite food? Or favorite dessert?
"Sushi, ice cream... but not together obviously!"