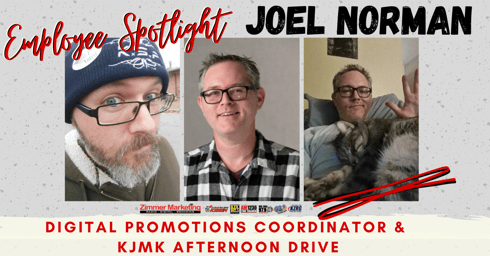 Here at Zimmer Marketing, we are a one-stop shop. We have a team of both radio and digital marketing experts, who work with businesses in the four states area to develop effective, integrated marketing campaigns. This comes with many different moving parts in making sure our clients see success. Every person on our team has an important role to play in this process. This Employee Spotlight series will focus on highlighting each member of our team, so you can get to know the people behind the scenes that make our success possible.
This edition of Zimmer Marketing's Employee Spotlight features Joel Norman; Digital Promotions Coordinator and 93.9 KJMK Afternoon Drive.
What is your favorite thing about working for Zimmer Marketing?
The people. The crew here!
If you wish you had written one song, what would it be?
Probably "Wonderful Christmas Time" or "All I Want For Christmas is You" ... One song, annual payday!
What's one thing most people don't know about you?
Wouldn't you like to know!? Really, I'm pretty much an open book!
What is the best show you've watched on a streaming service?
I Think You Should Leave or Parks & Rec
Who is your favorite singer/band?
Right now, today it's Darroh Sudderth from Fair to Midland. But ask me tomorrow and it'll probably be different!
Who would play you in a movie about your life?
Probably someone like Nick Swardson, though it wouldn't be a good movie
If you could go anywhere in the world on vacation, where would you go?
Android
If you had to live in another time period, what would you choose?
The far future, let's role the dice!
Neither. I am not a social media fan
What's your favorite food? Or favorite dessert?
Oreos. It can get out of hand...