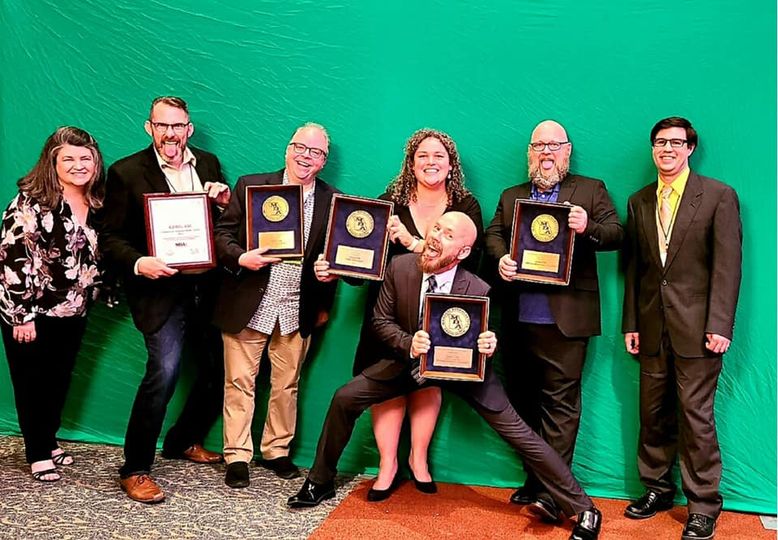 The Missouri Broadcasting Association Awards were held, after a year hiatus, on Saturday, August 7th, 2021, at the Hilton in beautiful Branson, Missouri. It was a good year for Zimmer Marketing as we have once again demonstrated broadcasting excellence - bringing home four first-place awards. Check out the highlights from the 2021 MBA Awards!
Kix 102.5 Wins 1st Place in Video
For the second year in a row, Zimmer Marketing brought home first place in the category Video for Radio. "Wash Your Hands" was filmed and directed by Zimmer Marketing's Senior Web Developer, Jason Dittmer, and featured KIX 102.5 personalities, Randy and Kaylee.
NewsTalk KZRG Wins 1st in Social Media
NewsTalk KZRG earned first place for social media. This is in no small part thanks to the dedicated and engaged listeners of KZRG. None of this would be possible without you! At Zimmer Marketing, we're grateful for the amazing listeners to our stations.
Kix 102.5 Wins 1st Place for PSA
Our public service announcement for Recovery Outreach Community Center, which aired on Kix 102.5, brought us first place. The PSA was one of the late Chad Elliot's projects and showed his deep commitment to supporting the surrounding community. Chad is deeply missed by all of us here at Zimmer Marketing, and we can't think of a more deserving person to have earned this award for PSA.
Kix 102.5 Wins 1st Place in Commercial Announcement
Zimmer Marketing earned a first-place award in Commercial Announcement for airing "In and Out Car Wash - Still Open."
Zimmer Marketing Earns Two Certificates of Merit
Classic Hits 93.9 and NewsTalk KZRG each earned a certificate of merit for the Zimmer Marketing family. NewsTalk KZRG earned their certificate of merit for a public service announcement for Jasper County CASA for Children. Classic Hits 93.9 earned a certificate of merit for a commercial announcement, "4 State Windows and More - Cheap Steaks."
Missouri Broadcasters Association Honors Chad Elliot
By far, the most important and touching moment of the 2021 MBA Awards for those of us in the Zimmer Marketing family was the tribute to Chad Elliot. Chad was the market manager here for many years, and during that time, he touched many lives with his kindness. Many in Joplin, Missouri, remember when Chad stayed on the radio for more than a week to get essential information out to the community after a fiercely destructive tornado ripped through our city. And, it was with a recording from Chad's tornado coverage that the Missouri Broadcasters Association honored Chad. Nothing fills the hole Chad's passing this summer has left for his family, and the many who loved him, but his tribute at the MBA was a richly deserved moment to honor Chad's legacy.