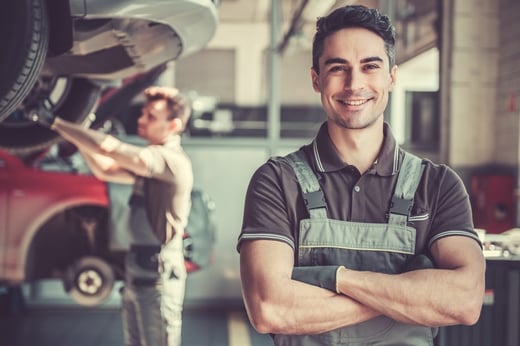 Does branding really matter? The answer is simple: Yes — it matters a heck of a lot.
When you think of a brand, you may think of a logo, a tagline, or a certain color scheme, but in reality, everything associated with your business and every customer touchpoint is part of your brand. The big question is, are you investing in it? Are you putting effort into building it, and paying attention so you know when it needs adjusting?
Unfortunately, many mechanics make little or no effort to monitor and build their brand, and instead rely on loyal customers, hoping they will refer their friends and family. Many believe it's not necessary to actively invest in their brand. But that way of thinking is a mistake that can severely limit your business potential.
In this post, we'll take a look at the reasons why branding matters, even for mechanics.
3 Big Reasons Your Mechanic Brand Matters
Your brand is what sets you apart from your competition.
For mechanics, there are many other options your customers can turn to for their car maintenance and repair needs, which means what you do is not why they come to you. They likely turn to you because you meet their needs and add important factors to the experience, like convenience, expertise, trust, and reliability. In other words, they care about how you do what you do. A strong brand communicates the what and the how, addressing customer pain points while positioning your business as different from the rest.
It's important to keep current customers happy, but just think of all the customers you could add if they knew how you did business. Even if you have a steady customer base, you could be costing yourself sales if you neglect your brand. In addition, by not paying attention to your branding, you run the risk of losing current customers to a competitor.
Branding builds trust.
Mechanics operate in an environment where trust is critical — and distrust can spread like wildfire. Not only are cars expensive, but they are a vital part of your customers' everyday lives. People trust their mechanic to care for one of their most important possessions, and help keep them and their families safe. That means it's crucial that your brand reflects the quality of your business in terms of your team's expertise and care, as well as the value of the products and services you deliver.
Good branding adds value to your business.
Have you ever wondered why people will pay more for a certain product from a particular manufacturer, when they could buy essentially the same thing for the same price (or less) from a different manufacturer? The answer is branding. When consumers become familiar with your brand — when it becomes instantly recognizable — they become more comfortable bringing their cars to you.
Customers are keeping their cars longer, and that's good news for mechanics, but it also means more competition. Ensure that your business stands out among the rest by investing in and monitoring your branding.