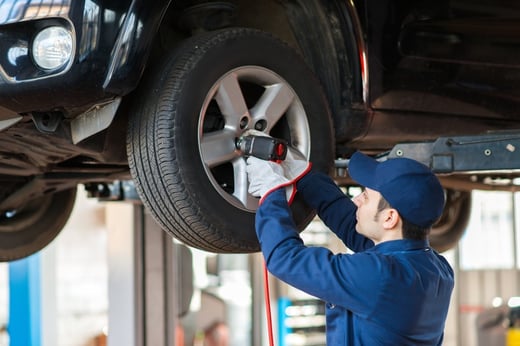 Auto repair shops face a lot of complex marketing issues. For starters, competition is fierce, customer loyalty is critical, and winning trust takes time. On top of that, horror stories about unscrupulous mechanics have contributed to an environment of distrust — and social media has made sharing those horror stories even easier.
It's essential to establish your auto repair brand as ethical and honest, stand out from your competition, and build trust with potential customers. In this post, we'll take a look at three ways you can tune up your auto repair marketing to do just that.
1. Manage Your Online Reputation (Claim Listings and Monitor Reviews)
When a customer is in need of a mechanic, one of the first things they're likely to do is head to Google and search "Joplin auto repair." In addition to some individual shop websites, they'll see a map of options, each accompanied by star reviews, as well as listings from Google, Yelp, Angie's List, the YellowPages, and others. Is your business showing up?
It's important to understand the various sites where your business appears (or fails to appear) in search results. If you haven't already done so, claim your listings. We suggest covering the following:
Verify you're providing accurate, up-to-date information, and keep it consistent across sites to support your SEO efforts.

In addition, it's important to have a strategy for monitoring online reviews and responding to negative comments. An Inc. survey indicated that 91% of shoppers read online reviews, and 84% trust online reviews as much as a personal recommendation from a friend. When you fail to respond to a negative review, potential customers only get one side of the story. In addition, monitoring online reviews can help you spot areas for improvement.
2. Tell, Don't Sell (Show You're a Helpful Expert)
The auto repair business comes with endless opportunities to tell stories and help your target audience envision working with you. Behind-the-scenes and meet-the-team videos can be a powerful way to build trust, and great fodder for your social media content strategy.
Another way to build trust and boost your SEO is through helpful, informative content like short videos or blog posts. Need ideas for topics?
Share simple maintenance tips and how-tos, so viewers can feel empowered to take care of their own vehicle and save money.

Remind drivers of seasonal auto needs, so they're prepared for what the elements bring and can avoid problems.

Bust myths related to car care, to show you're a helpful ally with a lot of knowledge.
Relevant content helps position your business as experts and build relationships with customers.
3. Use an Integrated Approach (Radio and Digital Combine for Powerful Results)
Integrating radio with your digital advertising can increase your overall marketing effectiveness. The massive reach of radio is unmatched by other media channels.
Business Insider
reports that 93% of Americans over the age of 12 listen to the radio at least once a week — and the bulk of radio usage is coming from people in cars. Include keywords in your radio ads to help listeners remember what to search for later, to drive website traffic, or invite new social media followers and fans.
Bonus Tip! Outsource Your Marketing
You know auto repair, and it's OK if you're not an expert in marketing. For an effective marketing strategy that will support your brand identity, set you apart from the auto repair competition, and develop the trust that's necessary for loyalty among Joplin car owners, connect with the experts at Zimmer Radio, Inc.