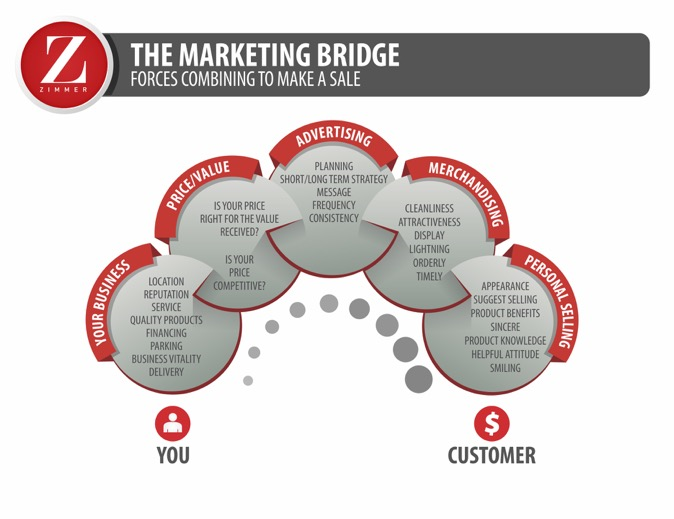 As you wrap up 2022 and move into 2023, it's important as a business owner to work out a solid marketing strategy. Although there are many tools at your disposal for creating effective business strategies, we'll share one of our favorites this week: the marketing bridge.


What Is A Marketing Bridge?
The marketing bridge is a conceptual framework for understanding what leads customers to buy from you. It is mostly focused on the individual details of your business that make your company attractive. At the same time, the marketing bridge is less interested in your deliberate marketing efforts. In this way, the marketing bridge can help you focus on the fundamentals of your business so that you can lay the groundwork for successful marketing campaigns. Think of your marketing as the glue that holds the building blocks of your bridge together. Let's consider some building blocks for your marketing bridge.


1. Physical Location
For most small businesses, physical location is one of the marketing bridge's most important building blocks. Many aspects determine the quality of your business location, but we'll focus on a few key areas right now. Your location should be easily accessible to your potential customers. Your store or business office should be clean and have styling that signals the professionalism of your company. And your signage should clearly show what your business is and does while following your
branding guidelines
.
2. Online Location
Depending on your business model, your online location may be more important than your physical location. Regardless of relative importance, your online location is critical to your business success and should be well-maintained. Your online location is the property or set of properties you own on the internet. The most important of these is your company website. Like your physical location, your website should be easily accessible (think search engine optimization and a memorable web address). Additionally, your site should be fast, secure, and follow consistent branding.


3. Customer Service
Next, consider the customer's experience when they interact with your business. Even something small such as a friendly greeting when they walk through your door, can go a long way to building a positive relationship with your customers. How quickly do you respond to customer communications? This goes for your website, too. If someone fills out a contact form online, do you reply on the same business day? These aspects of customer service are absolutely critical blocks in your marketing bridge.


4. Pricing
Finally, we come to pricing. At Zimmer Marketing, we never recommend reducing what your business charges as a first step. Instead, it's best to ensure that every other part of your business is optimized and that you've consistently defined your brand. When you've got excellent customer service, beautifully-maintained online and physical locations, and a solid branding strategy, you should be able to charge a fair price for your products and services. And that doesn't mean undercutting your competitors in a 'race to the bottom.' Nevertheless, assuming that the other building blocks of your marketing bridge are in order, it is very important that you set your prices at a reasonable rate that is consistent with the market.


Get Help from the Experts at Zimmer Marketing