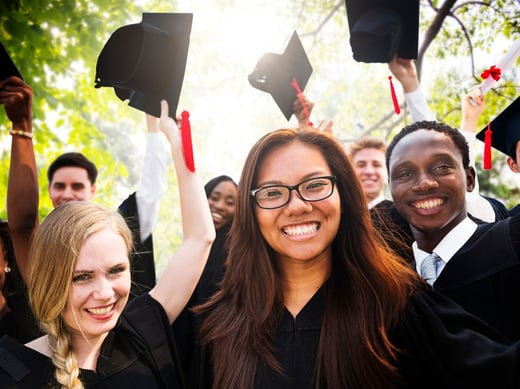 With multiple universities, colleges, technical and trade schools in the area — it can be difficult for schools to stand out and snag student attention in Joplin. Marketing is an important way to help differentiate your school from the rest and ensure potential students are aware of its best qualities and benefits. Of course, this is a time when people, students especially, don't want a sales pitch.
In today's post, we'll take a look at why a college or university marketing strategy is important for engaging prospective students as well as four of the most essential considerations that need to be covered in that strategy.
Why Your School Needs a Marketing Strategy
Competition between schools is fierce, and we aren't referring to their sports teams. The world has become an always-on marketplace, and colleges and universities can no longer afford to consider marketing as a service function rather than a vital piece of their growth and recruitment strategy. Quite simply, the old way of recruiting new students (or even new staff and faculty) isn't going to work anymore. Schools need to consider themselves as brands and leverage marketing to students much like non-education entities market to customers.
A marketing strategy allows schools to build a cohesive plan for reaching the right prospective students in the right way at critical moments in their decision-making processes. Technology has accelerated and changed the way prospective students want to engage with a potential educator, and a regularly updated strategy will allow schools to incorporate the best channels for reaching them. What's more, a complete marketing plan, which includes traditional channels, digital reach, and content marketing, will allow schools to do the following:
Show supporters that brand equity is strong and valuable.

Establish links to the community and build community relationships and support.

Develop and display school pride, loyalty, and success.

Present a cohesive, consistent, and robust school image.

Differentiate the school, its programs, and its impact.

Establish what experiences to expect while attending.

Reach international students.

Engage and attract prospective students early in their research and decision process as well as maintain a connection with them.

Engage and attract people on non-traditional paths to continuing education (e.g., those with GED, those did not attend higher education immediately after high school, those that previously dropped out of school, those working full time, etc.).
4 Essential Parts of the Marketing Strategy
Knowing why you need a strategy isn't enough — you need to develop a powerful strategy in order to be effective. We've put together four of the core, essential pieces of an effective marketing plan to help your college or university begin to develop its own strategy.
Research
It's important that marketing plans are based on data, so never make assumptions about your current organizational environment or your audience of prospective students. You should know for sure which departments have strong or weak admission rates, what kinds of students you have, and how satisfied they've been with their experience. You should also know for certain what kind of students you want to reach out to. Does the program you want to market for work best for fresh students, or do you need to appeal to full-time employees that want to change or expand their career? Would marketing to a parent or spouse bolster a prospective student's desire to attend? Make sure this research is as up to date as possible.
Goals and Objectives
Analyze your research to first identify your goals. For instance, a university may realize that its MBA programs are sluggish because they don't appeal to prospective students currently in the workforce, but its presence in the marketplace isn't strong enough either. The university would then need to create two plans within its overall strategy, each focused on these goals with specific, achievable objectives (e.g., increase MBA enrollment by 5% over the next three years, improve share of voice by 10% over the next two years). Your strategy should always be working to achieve something.
Tactics and Metrics
This is where you get into specifics, and again, you must rely on your research to make these choices. For instance, don't assume that because you're appealing to younger audiences, you shouldn't leverage traditional mediums like radio; radio actually reaches 67 million Millennials nationwide each week as well as 95% of teens each month. Conversely, just because you're appealing to older audiences doesn't mean you shouldn't tap digital outlets: between 55% and 60% of all students are more likely to consider institutions that leverage email, text, and social media (varies by channel). Establish your tactics based on recent research about your prospective students, because with new platforms and marketing channels being developed all the time, this is the only way to stay on top of what's most relevant.
Once you've decided on your tactics, you need to identify the metrics that will allow you to benchmark the progress and success of your marketing strategy. If you're leveraging an email campaign, you'll need to capture open rates, click-through rates, and conversions. If you're leveraging radio, you'll need to track the traffic and conversions of pertinent landing pages mentioned in the ad for example. Each tactic should be tracked in real time so that you can redirect the campaign if necessary.
Budget
The school's advertising budget is one of the most essential parts of a strategy; that's because the budget needs to define the actual plan and execution of the marketing. The overall marketing plan should have a budget for the year, or at least the quarter. Then each campaign should also have a specific budget. Use that to focus on each goal to choose the strongest tactics that are the most likely to get the best results for that goal, then define a budget for each tactic. This will help maximize the results and keep spending in control. When the campaign is complete, metrics and budget should be compared to determine whether a particular tactic should have more or less of a budget in the next campaign.
A university or college marketing strategy is critical to boosting admissions and continuing to grow. The strategy allows you to cohesively and thoroughly address each need in turn. Understanding your prospective students and the influencers around them is the best way to ensure your school provides the best education for them, as well as help your marketing ensure they know about it. Your marketing goals along with your research will define objectives and tactics, and metrics will ensure that your strategy becomes a reality that achieves those goals.
Of course, this is just initial concepts to put your strategy on the path to success. If you're interested in learning more about effective marketing strategies for the modern marketplace or need assistance with higher education marketing in Joplin, Missouri, contact Zimmer Radio today to find out how we can help you develop and manage your marketing mix.