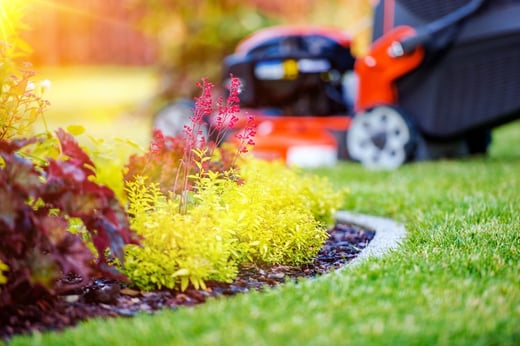 Spring is upon us, bringing warmer temperatures and longer days — which means your customers and prospects have lawn care on the brain. With summer just around the corner, now is the perfect time for them to ensure their property is ready for guests and get-togethers. And for Joplin lawn care businesses, now is the time to earn more mental real estate.
While this is likely your busiest season and your main objective is to serve your customers, marketing is still necessary. Follow these tips now to plant the seeds for long-term success.
1. Focus on Feelings
That may sound odd, but think of it this way: you're not the only business that provides lawn care in the Joplin area, so why should customers choose you? Instead of focusing on your services, focus on what they're really buying from you. They don't just want a neat lawn. They want the best lawn on the block, more time enjoying the weather, less time working in the heat. They want a lawn that's perfect for cementing memories of playing outside with their kids and entertaining guests.
Now that projects are ramping up, pay attention to what your target audience really gets out of your services — and look for opportunities to capture stories. With these insights, you can create more meaningful marketing messages that appeal to prospects on a deeper level. Infuse this understanding into your advertising — like a radio spot that paints a picture of a yard that homeowners can brag about. And incorporate these audience insights into your entire marketing strategy — from your website and sales collateral, to the talk tracks your sales team uses, even your brand mission statement.
2. Ask for Referrals
Word-of-mouth is heavily valued by customers researching or considering brands, especially when it comes to caring for the place they call home. Make a point to ask for testimonials from happy customers that you can use on your website and in radio spots, and encourage them to refer you to their circle of contacts. It's smart to keep business cards handy for in-person exchanges, and give a few away for customers to share with friends, family, and neighbors.
At the same time, understand that not every customer will be a good source for referrals, even if they were pleased with your services. Encourage referrals at the right time (following a job well done, not before), and don't push.
3. Claim and Manage Online Listings
When people are trying to find a local business today, they're more likely to turn to their smartphone than a phone book. That makes it critical to claim and update online listings; it's the only way to ensure potential customers are finding the right contact information and more for your brand. Different listing services provide different types of information, like office hours and photos or user reviews and comments. These are all important touchpoints for brand perception.
Even if you think you're not on Facebook, it's possible (and highly likely) that someone has added a Page about your business without your knowledge. By going through Facebook for Business' claiming process, you can stay in control of the information shared about your company and correct any inaccuracies. You should also look and see if you're listed on Yelp, Angie's List, or Google My Business (and more), and claim those listings as well.
4. Use the Busy Season Strategically
You know all too well that even though the demand for your services is currently high, it will drop off in colder months. That means your marketing shouldn't go into hibernation now. Be sure to leverage the fact that you're busy to lay the groundwork for the marketing you'll do in the off-season.
Whenever you get information from customers for quotes or to establish a lawn maintenance schedule, you should also collect email addresses and develop a strategy to stay in front of them. Throughout the busy season, create and share valuable content that they can depend on receiving regularly. Then, throughout the off-season, you can continue to connect, keeping your brand top-of-mind despite the cold and establishing deeper trust. Once spring is back with warm weather and rain, they hire the company that's stayed with them.
By using the busy season strategically, improving the way you're found online, encouraging referrals, and focusing on what your customers are actually buying from you, you can establish a level of branding that helps you stand out from your competition. It might be the busy season, but don't let the opportunity pass you by!