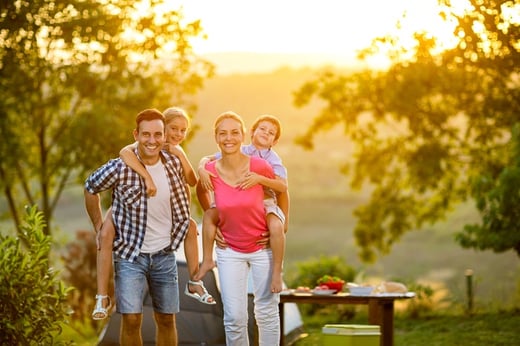 It's summer! You know what that means. Warm weather, vacations, and family activities — in other words, changes in consumer trends. Businesses need to respond to these changing trends to stay focused on what their target audience is doing during the summer. To help you do that, we've made a list of 5 consumer trends to consider for your summer marketing strategy.
5 Summer Consumer Trends
What consumers are searching for during the summer can provide valuable insights to help you adjust your summer marketing approach.
1. Travel
Not only are consumers staying connected while they're traveling, they're using their mobile devices to search for vacation packages, hotel deals, and discounted flights. Consumers are increasingly searching for inexpensive travel options for family vacations and discounted honeymoon destinations.
2. Outside Activity
People want to be outside during the summer, and they're looking for things to do.
3. Media Intake
Consumers' media consumption changes in the summer, making it important to identify seasonal trends that may affect your business.
4. Health Focus
People are more physically active during the summer, and they may have seasonal health needs, such as treatment for minor injuries or sunburn.
5. Dining
People do more grilling in the summer, resulting in a bump in searches for grilling recipes, and their taste for BBQ during the summer months extends to their dining-out experiences, as well, with surges in searches for popular BBQ destinations such as Kansas City and Memphis.
How These Trends Affect Your Business
Mobile is hot during the summer. There is a general trend toward mobile overall, but during the summer months, this trend grows 86% faster. Consumers are searching for deals, directions, recipes, and hotels. This means a focus of your marketing strategy must be to capture demand across screens.
It's also important to consider how the weather affects demand for your product. It's fairly obvious that if you sell sunscreen, demand is likely to increase during the summer, and likewise, if you sell winter coats, demand will drop. But the weather may affect demand in more subtle ways, as well. As consumers spend more time outdoors, landscaping or pest services may be in demand. Summer get-togethers can be a great time to promote housecleaning services.
Consider ways you can tailor your message or adjust your product mix based on your location. Tie in your messaging with local events that consumers may be searching for, such as concerts or festivals in the Joplin area. Also keep in mind that vacationers often make their plans on the go, as mobile devices have made it easier for travelers to be more spontaneous.
Think about ways to make your seasonal products more relevant during other times of the year. For example, grilling used to be thought of as a summer activity, but more and more, people are grilling year-round, especially for holidays. If you have seasonal winter products or services, think about how you can generate demand for them in the summer.
Marketing Tips For Businesses
Target audience focus.

Think about what they will be doing, where they will be, and what kinds of messaging will appeal to them during the summer.

Creative.

Your creative should speak to both the season and your target audience. It's important to ensure that your creative is memorable.

Consistency.

Even if your product isn't typically in demand during the summer, you should continue your marketing efforts to maintain brand awareness and keep your business top of mind with consumers who may need your product or services at other times of the year.

Frequency

. Consider how the frequency of your ads may be affected by summer trends. You may be reaching different listeners during the summer, so it may be a good idea to increase the frequency of your ads for maximum impact.

Planning.

Work with your experienced media professional to develop ways to keep your messaging relevant during the summer. Your media partner can also help you make adjustments in channel selection for your marketing campaign..
It's important to ensure that your media strategy changes to stay aligned with consumer behavior during the summer months. You should also consider the types of activities in which your target audience may be engaged during the summer, what they're searching for, and how you can ensure your business stays relevant.