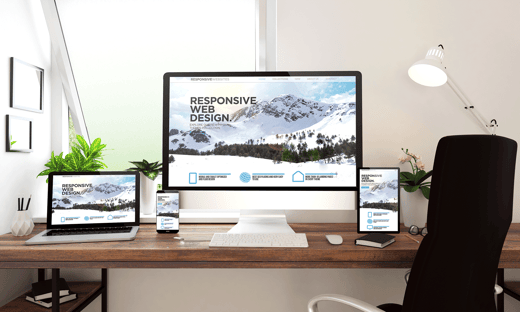 Responsive website design is all about making sure your business website looks perfect on all electronic devices, including desktops, tablets, and smartphones. It's also about maximizing the speed of your website on all devices and making it incredibly easy to use for all users.
While certain website-building platforms such as WordPress offer themes that promise to be mostly mobile-responsive, for most business owners, having a fully responsive site requires custom web development done by a skilled professional.
In this blog, we're going to take a look at five important reasons your business needs to have a fully responsive website.
Why Having a Responsive Site Is Important
Before we dive in further, let's first take a look at why mobile responsiveness is so important for your website. Then we'll look at what a fully responsive site can do for your business.
Within just the last year, the web has continued to change at incredible rates. Among many other changes, the inevitable finally happened: desktop browsing among Internet users has been overtaken by mobile browsing.
For individuals who only own a single type of device, more than twice as many use only smartphones over only desktop (or laptop) computers.
Of course, this change didn't surprise experienced Internet marketers and web designers who have seen it coming for years. Yet surprisingly, many businesses and the online industry as a whole have been slow to respond to this change.
According to reports, the number of websites that haven't fully adapted to a responsive culture is nearly 60%. This is a cause of concern for many businesses and an area of opportunity for businesses that recognize the environment.
Major search engines like Google now favor responsive, mobile-optimized websites in their search results. These sites are the ones that have properly put into place a mobile-responsive design done by custom web development professionals.
Here are five reasons you should do the same.
Improve Website Usability
If it's difficult for a user to navigate your site, they're probably not going to stay around for long. And the best SEO Missouri has to offer will tell you that Google recognizes "time on page" as one of the top indicators of a site's validity on any given search query.
This means that, by having a responsive design, you'll keep users on your site longer while simultaneously rising in Google query results.
Better usability also leads directly to increased conversions and more repeat visitors on your site.
Simply stated, site usability and the overall customer experience cannot be over-emphasized. Google will handsomely reward websites that meet their users with this type of experience.
Faster Page Load Speeds
Another well-known Google ranking factor is page load times and speeds. Your website needs to be properly optimized in order to load as fast as possible. It's also important that your site is hosted on a lightning-fast server.
Throughout the years, Google has been very open about the fact that fast-loading websites are highly favored in their query results. This is one of the dozens of reasons that Google recommends that you have a responsive site.
Sites that are properly mobile-optimized and responsive will load much quicker on smart and mobile devices, which results in better user experience and a healthy boost in search rankings.
Lowered Bounce Rates
Your website bounce rate points to how much time a user spends on your site. How quickly do site visitors immediately backtrack and leave your site?
Google's algorithms pay a lot of attention to each website's behavior as it relates to entry and exit points. When it sees that short user times (when a user leaves the site nearly as quickly as they found it), it determines that the content of your site does not match what the user was searching for.
When this happens on a regular basis, Google will continue to lower your site on its search results for those specific queries.
However, in many cases, such short user time (and high bounce rates) have nothing to do with the actual content of your site. In fact, the content might perfectly match what the user was searching for.
But if your site isn't responsive to the device they're using, or the design of the site is poor or unappealing, many users will immediately leave.
A mobile responsive design lowers bounce rates by bringing relevant content to users within an environment that perfectly fits their device without any distractions.
Website development Missouri professionals and other expert web designer midwest firms can make this happen for your site.
Few Cases of Duplicate Content
SEO Missouri experts agree that Google's algorithms are very intelligent. But Google still needs direction from website owners on which of their website's content is most relevant.
Website owners that have separate desktop and mobile sites have a very hard time managing issues with duplicate content. The problem is that using different websites for mobile and desktop requires using different URLs for each. Even though the content on each site is identical, the URLs for each site is completely different.
Google will view this as duplicate content, which can do a lot of hard to your search rankings. Furthermore, if you don't make it crystal clear which of your content is the most vital and which content should be indexed, Google will decide for you.
The end result is much lower search rankings for both your mobile and desktop sites.
When you have a mobile responsive site, this worry is gone. Your users will all be using the same URL whether they're on mobile or desktop. There is no duplicate content.
Boost Social Shares
While improving your social media can help with SEO, in general, social shares won't directly impact your search rankings.
But it'll definitely help you grow a larger audience.
When your site is properly optimized, it'll be much easier and inviting for mobile users to share your information on their social media accounts.
It's Time To Get Responsive with Zimmer's Web Development
Website development in Missouri, ZimmerMarkeitng one of the premier web designers in the midwest can help expertly build you a responsive site.
At Zimmer Marketing, we have the experience and know-how to build you the best.
Zimmer Marketing is a full service marketing company Joplin MO providing SEO, Web Site Development, SEM campaigns, OTT, Pre-Roll video services, video production, social media management, and marketing.