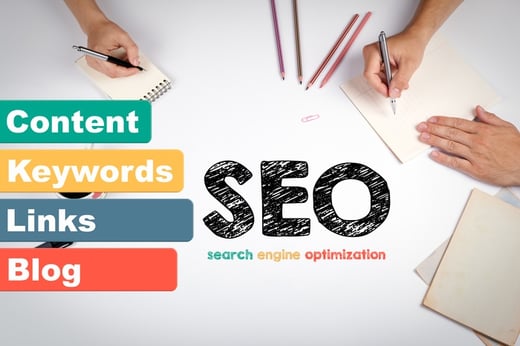 Discoverability is imperative for law firms, and that means SEO is a critical piece of your marketing strategy. It impacts where your firm's site will appear on search engine result pages, and even whether you turn up in the results at all. Effective SEO requires a balance of technical measures and valuable content. You'll need to commit to staying up-to-date on tactics and best practices, as well as regularly providing fresh content.
We've put together six tips that will help ensure your SEO strategy is effective for intersecting with potential clients when they need you and accomplishing your business goals.
1. Make Sure Your Site is Mobile-Friendly.
The number of searches done via a mobile device outnumbers those done from a desktop. More and more of your clients and prospects will be searching for legal services through their smartphone. That means at a minimum, you want an optimal experience for mobile visitors. However, search engines like Google also make mobile-friendliness a ranking signal, and requires each page of your site to meet certain guidelines, including page load speed, image file size, video encoding, and how easily the site can be navigated with just one finger.
Failing to meet these guidelines will lower your ranking, making it more difficult to appear in search results. It also bears mentioning that more than half (53%) of visits are abandoned if a mobile site takes longer than three seconds to load. So it's not just Google that takes this seriously.
2. Determine the Keywords You Want to Rank For.
It's just not possible to rank high for every keyword that users may enter to search for a law firm. You need to select the best keywords for your firm and specific specialties, and develop a strategy for achieving one of the coveted top three results (i.e., the ones with the highest click-through rate, and thus have the highest probability of conversion).
Start by keying into what differentiates your firm from others in Joplin, such as service or industry specializations. For instance, a term like "Joplin attorney" is too broad, while "Joplin personal injury attorney" is stronger.
Conduct market research to determine what terms are actually being used by your current and prospective customers with regards to your expertise and core offerings. (A unique keyword won't do you any good if no one is using it.) Couple this with competitive analysis to see which terms other firms are using and how well they rank with them. Optimally, you'll find a keyword with high search volume but low competition; it will be easier to rank for these keywords.
3. Optimize Your Site and Content to Align with Your Keyword Strategy.
Your site and content need to leverage the keywords you've chosen. Remember that search engines will rank each page individually, so each page needs to leverage the best keywords for its topic. For instance, if your firm has expertise in both personal injury and medical malpractice, the landing page for each would have different keywords to rank in two different kinds of searches.
It's important to note that it's not as simple as slapping the keywords on the page. The next step is to produce and promote high-quality content that appropriately includes keywords in such a way that they add value to the user experience. Consider using blog posts, infographics, videos, case studies, in-depth guides, and more. Images need to have the appropriate data and description fields filled in. This will make it easier for search engines to crawl the page, and for visitors to navigate your whole site and find the information they need.
4. Place CTAs Above the Fold.
Key contact information — your firm's location, phone number, and general email address — should be easy to find on every page of your site. Your website footer is typically a good choice.
At the same time, any calls-to-action (CTA) ought to appear "above the fold," or before the point at which the visitor needs to scroll. Your CTAs can drive visitors to get in touch — "Schedule a consultation." — or learn more about why to choose your firm — "Download case studies." People don't want to waste time trying to hunt down what they're looking for. By putting CTAs above the fold, you both clearly direct visitors to the next action they need to take and reduce any friction to do so.
5. Claim Local Listings.
Information about your firm is likely online, whether you put it there or not. Ensure the information that can be found is correct by claiming, verifying, and otherwise refreshing entries in online directories and business listing sites — like Google My Business and Bing Places — as well as social review sites — like Yelp — and any other local legal directories.
Taking these steps serves two purposes. First, it makes your firm easier to discover on the actual sites where people may be looking for services like yours, effectively raising awareness about your firm. Second, it bolsters your SEO because trustworthy sources are confirming the information on your site. Monitoring these listings is an important piece of modern reputation management.
6. Try Paid Search.
Intent is a key factor to key into when trying to reach prospects. You want to reach them when they're searching for the services you provide, especially when it's close to their final purchase decision. PPC marketing run through search engines helps you do this by targeting users and delivering your ads according to their geographical area, certain traits and behaviors, and the keywords they use in their search. Paid search ads appear above the normal results, making your ad impossible to miss and automatically lifting awareness and the likelihood of conversions.
Paid search also offers a variety of tools that can reduce the friction between a user seeing your ad and trying to contact your firm. For instance, Google provides a variety of options that allow you to customize what's presented to the user, and even offers click-to-call, so users searching from their smartphone don't even need to take an extra step.
SEO plays a critical role in ensuring your firm is easy for prospects to find when they're looking for the services you provide, so you need to make SEO strategy a marketing priority. The tips we've shared above will help get that strategy started, but know that SEO is an ever-evolving landscape. Search engines will regularly change their algorithms in order to better meet user needs and downrank anything that abuses the algorithm. Be sure you stay up to date on the requirements and best practices that will keep your site at the top of page one.