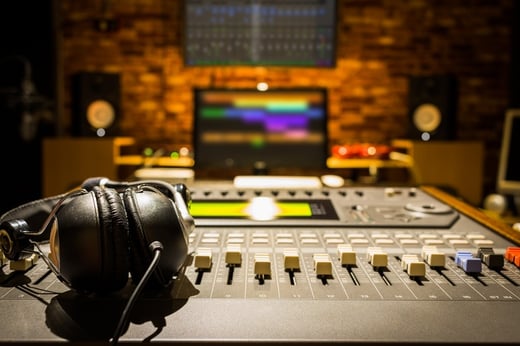 Do you feel like your radio campaigns are lacking that special something? Or that they could be achieving a little more? If other elements of your campaign are in line, then you may need to consider a new creative spin.
Below we've gathered six great tips to improve your creative and craft engaging radio spots to help you achieve your desired results. For your convenience, we've broken it down into three sections to make it easier to hone in on the tips that will best suit your strategy.
Radio Endorsements
Influencer marketing via social media may be all the rage, but the truth is radio was the pioneer. On-air personalities, hosts, and DJs offer unique perspectives that have a big impact on the way their listeners perceive brands, products, and services.
1. Use Amazing Radio Personalities
We recently shared that 75% of listeners tune into radio stations because they know their favorite personalities will be on the air, and more than half call them opinion leaders. Also, as the RAB reported, 8 out of 10 listeners will consider trying brands, products, and services recommended by their favorite host or DJ.
When you choose an on-air personality that aligns with your brand and cares about your products and services, they can speak to your audience about their genuine experiences with your brand. That translates into powerful influence with their listeners.
2. Leverage Word of Mouth
The reach associated with radio personalities and the influence they offer aren't the only advantages. Listeners spend a great deal of time tuning into radio every week. That generates high frequency for your message and, with the right creative, can become a point of interest for listeners.
More important, upon hearing radio ads or an endorsement, listeners are more likely to discuss what they've heard to their friends or family. Thus, helping to spread the word beyond the show's listenership.
Live Broadcasts
With live broadcasts, the party comes to you. They can happen anywhere - at your store or at an event you're hosting or sponsoring.
3. Use Personal Calls-to-Action or Competitions
This is a great way to drive sales or push specific products. Since personalities are on-site, they can speak directly to the in-store experience, as well as their experience with your staff, products, and services. As a bonus, they can get testimonials from attendees. Be sure you have offers in place to drive listener engagement, like a raffle or other contests, and create an environment that people will naturally want to be a part of.
4. Promote Your Grand Openings
Grand openings are all about capturing attention and getting your audience interested in the new location. Similar to the previous point, you can use competitions and the power of influence to attract customers to your brand new space. The event, in conjunction with the presence of the on-air personalities, will drive foot traffic to that location.
Jingles
Ear worms are hard to get out of your head, and that's precisely what makes them perfect for brands. The creative needs to be on point and the tone needs to match listener expectations, but when you get it right, the benefits are amazing.
5. Enhance Branding and Recognition
Jingles are easy to remember, and that means they're also easily recognizable, separating your brand from the competition. Consider this, it's not hard to identify the jingles for Nationwide or State Farm insurance companies. (And just by saying that, did the jingle for each come to mind?)
6. Improve Long Term Recall
The truth is, even if a listener isn't giving their undivided attention to your ad and their focus is elsewhere, the jingle will cut through that fog later and spark their memory. To illustrate this, how do you determine the correct order of the letters O, M, P, and N? Did you sing the ABC's to remember, or even just the one line in the song? Jingles tie to memories in the same way, helping your message stick even if the listener doesn't realize it.
Nailing your radio creative can charge up your campaign and enhance the way your audience remembers your message and engages with your brand. Consider these tips when designing your next radio ad in order to guarantee the best results.