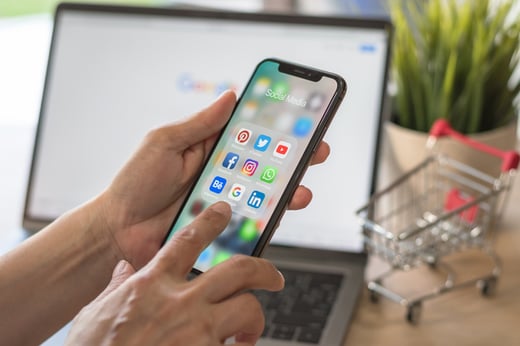 As a digital advertiser, there are a number of tools and tactics you can use to get your business in front of the right audience. The key is to understand all of these tools and choose which types of digital advertising will drive the best results for your specific needs. Below are some of the best options to help you decide what to incorporate into your marketing strategy.
1. Display Advertising
With display advertising, your ad will be shown on websites that reach people who are likely interested in your product or service. With this type of advertising, you can choose to target a specific type of customer based on buying habits, interests, demographics or other options. At Zimmer, we choose the best display ad networks for your brand, and handle the bidding, targeting, analytics, and optimization to drive advertising success.
2. Retargeting or Remarketing
While all of your website traffic may not convert on the first visit, many of those that don't buy right away may still be interested. Retargeting allows you to "remind" interested shoppers about your site and will hopefully bring them back in to close the deal.
3. Keyword Targeting
Keyword targeting is similar to PPC but has a bit more "finesse." It's an advanced search technique used in display advertising that shows your ads on sites that contain keywords related to your business. This prevents your ad from getting lost or ignored at the top of a Google search results page. Instead, it shows up on webpages where your target audience is spending their time. This is a win-win.
4. Native Advertising
Native advertising is a unique form of advertising as it blends in seamlessly with the content someone may already be viewing. Sponsored posts or content matches the look, feel and function of the site it is published on and is often less-obtrusive than other types of ads. Native ads can often be found in social media feeds or as recommended content on a web page.
5. Geotargeting
For some companies the consumers that are most likely to become customers are the ones located nearby or in a specific geographic area. That's the basis of geotargeting--it customizes advertising to a specific geographical target market. With this advertising type, ads are delivered to the consumers' mobile device in real time once they enter a specific radius. This gives you a competitive edge over other local businesses vying for the same customer.
6. Video Advertising
Today more than ever before people are turning to online video platforms for education, entertainment and socialization. Utilizing video ads--those that play before or during videos--is a great way to reach a connected and modern audience. Plus, you have the opportunity to create dynamic and memorable ads using a video format.
7. Social Media Advertising
One of the most useful forms of advertising today is social media advertising. Not only is it a great way to reach potential customers "where they are," but social media sites make it extraordinarily easy to target your ad to just the right audience.
The right type of advertising is often different from one business to the next. Review these various types of digital advertising and determine which ones will work best for your business. We encourage you to reach out to Zimmer Radio today and let us show you how we can help build and execute a winning digital advertising strategy for your business.