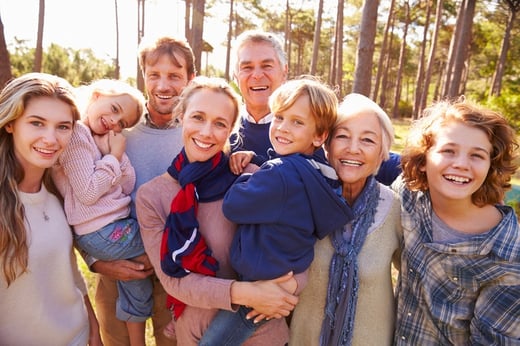 Each new season of life features its own unique milestones and events. Perhaps the most important ones involve the various decisions everyone must make as they get older.
When it comes to adult children with aging parents, the decisions are incredibly complex. They often feel a heavy burden when the time comes to help their parents make the difficult choice to leave their beloved family home.
Adult children may be concerned that their parents are at risk while living in a home that has steep staircases, slippery floors, and other hazards. They may also worry about their parents' mental faculties, and whether they are able to adequately care for their own well-being. At the same time, children may experience resistance from their parents, no matter how much they may need additional assistance in their later years.
When marketing a living facility directly to a prospective senior resident, the challenges are slightly less difficult since they have already made their decision. The important factor in either situation is to offer reassurance that they will feel welcome, comfortable, safe and engaged as quickly as possible.
3 Key Marketing Considerations to Help You Reach Family Members and Seniors Choosing a Living Facility
Knowing your target audience—particularly their basic needs, fears, challenges, interests and hopes—is the cornerstone of any effective marketing campaign for senior living facilities. Considering how sensitive this situation is for everyone involved, seeking to understand each family is especially important.
Take a look at three of the top marketing considerations to keep in mind to help you connect with families searching for a living facility.
1. Let Them Know You Hear, Understand and Sympathize with Their Concerns
In addition to the issues mentioned earlier, each family will have their own concerns when it comes to choosing a new home for their loved one in an assisted care living facility. The most valuable thing you can do is pay attention to the little details. If the senior in question loves working in their garden at home, work to reassure them that they can enjoy a small window box or patch of gardening space, if possible. Be sure to address their needs, and communicate how your living facility can help fulfill them.
2. Establish and Foster Trust with Everyday Language
One of the quickest ways to scare, intimidate or irritate potential residents is to use jargon or complex vocabulary. Understand that, while they may understand those terms, they are most likely working at a more emotional level and would prefer to talk in everyday terms. Most people in these circumstances need warmth, sincerity and a down-to-earth experience to ease the process.
3. Reassure Everyone That the Space is Warm, Inviting and Safe
The whole family is probably going to worry about their loved one's sense of well-being, which includes their physical space and social environment. They may worry that their loved one won't easily make new friends, be engaged or find private space and time to themselves. Make an effort to highlight specific amenities that will help to put everyone at ease.
Your Understanding of These Core Marketing Strategies Can Help You Reach Your Target Audience Better
When you are working with adult children of seniors - or seniors themselves - searching for an adult care facility, it is important to listen, build trust and provide reassurance. By doing so, you may find that everyone is more receptive and at ease throughout the process.