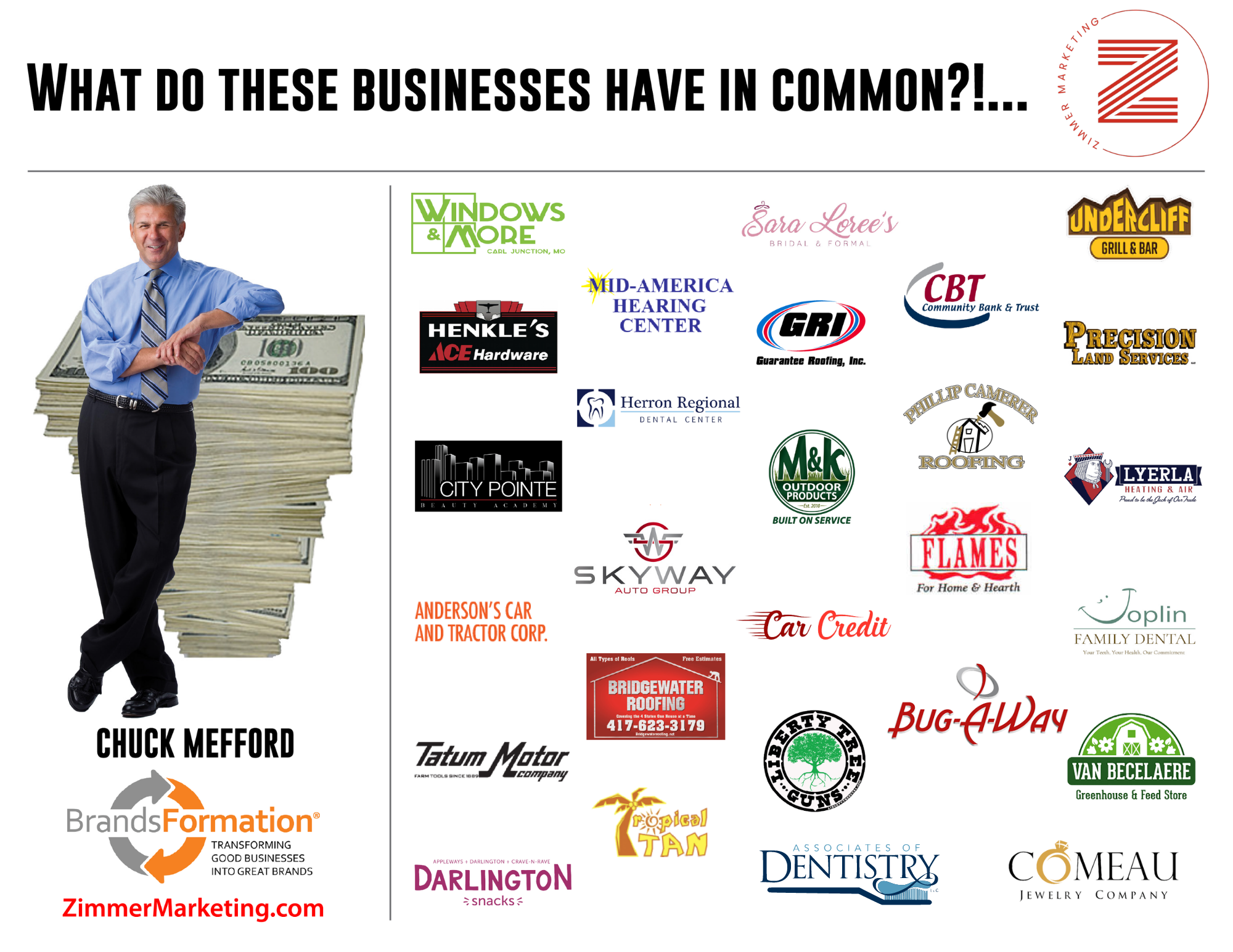 In a difficult business environment, it is more essential than ever to have a solid branding plan. Branding allows you, as a small business owner, to take control of your messaging to maintain steady growth even during tight and uncertain economic conditions. That's why Zimmer Marketing is hosting BrandKamp this fall.

Save the Date
Tuesday, October 4th
Time: 11:30 am
Where: Joplin Holiday Inn


What is BrandKamp?
BrandKamp is an absolutely free event for small business owners to get some free information and coaching on successful branding practices. Branding expert Chuck Mefford offers a fast-paced seminar teaching from his proven system, BrandsFormation. In this event, you will learn how to recession-proof your business. So while your competitors are cutting back, you'll be able to put your for on the gas. During no part of BrandKamp will you be asked to buy anything.

During BrandKamp, you'll receive expert instruction on:
How to create effective ads that yield great results through superb storytelling
4 steps to develop your brand and dominate mental real estate
How to uncover your difference maker
Actionable tips to be the business people think of first when they need what you offer
The strength of traditional media and digital media
How to use digital advertising the right way.
Who is Chuck Mefford?
Chuck Mefford is a marketing expert and business strategist. His marketing firm has helped over 1,500 businesses stop wasting millions of dollars on advertising. Each year, he travels the country helping small businesses become powerful local brands, dominating their industries in their region. Mefford has written three books, including BrandsFormation.
What is BrandsFormation?
BrandsFormation is based on Chuck Mefford's years of marketing experience. Throughout his career, he has used the methods that large, successful companies use to brand their businesses and used them to grow small and medium-sized local companies. This resulted in his highly successful BrandsFormation system. It consists of four basic steps.


1. Strategy
During this step of BrandsFormation, you will take stock of your business. You'll need to identify competitors and determine the differentiating idea that truly makes your business unique. This is the foundation for each following step, so it's important to be thorough and get it right.
2. Strategy-based messaging
In this step, you will begin crafting your story. You want a message true to your company that will resonate with your audience. To understand this phase, think about bricks and mortar. The bricks are the individual ads in your campaign telling a specific story, and the mortar is made of thematic elements and things that don't change across platforms or ads.
3. Consistency
Consistency is all about using certain branding elements in each type of material you produce. In the case of radio ads, that can be things like music, your motto, or a specific voice you use for the spot. In other words, this is the mortar. It's the through-line running through all your branding materials and one of the most important parts of brand building. These will be some of the most memorable features of your branding campaign.
4. Dominant frequency
Your brand's message should be delivered to your target audience with frequency. For a timeframe, you should be thinking six months to a year. BrandsFormation is all about commitment. Commitment creates long-term results and is essential to creating a strong brand that will command mental real estate for years to come.


Reserve Your Spot at BrandKamp Today!