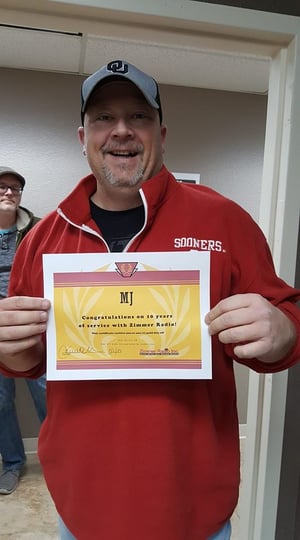 A business can only be successful if it has the right team members. These are loyal, hardworking people who are committed to doing their part to create great results. They also remain with the company long enough to truly master their jobs so that they are both effective and efficient.
At Zimmer Radio, we make it our duty to recognize staff who are a shining example of excellence. Today, we're recognizing MJ for his 10 years of service with us as a star team member.
Who is MJ?
MJ is on the air at our station, KIX 102.5, from 10AM – 2PM. He also hosts our New Music Showcase on the channel from 10PM – Midnight on Sundays. Along with his on-air work, he is part of our creative services team, writing and producing commercials.
Not surprising, MJ is a true music fanatic, with interests in many genres. He loves how the music scene is constantly changing, and he is always looking for new music and artists. When one that he has "discovered" makes it big, MJ is very excited. Even when he isn't spinning discs for us at KIX, he is often doing it at parties or enjoying to live music.
Of course, MJ does have some interests outside the music scene, too. He plays golf and softball, and you can often find him rooting for the Jacksonville Jaguars and Oklahoma Sooners. His love for these sports team runs deeper, no matter how good or bad a year they're having.
If you see MJ around town, it's fine to come right up and say "hi." He loves people, and is always glad to talk. This is one of the reasons he is such a great radio host. He has gained the trust of his audiences, and he fosters a sense of community every time he's on.
Hats Off for MJ
We are glad to recognize MJ's important contribution to Zimmer Radio and to our community, and celebrate his 10 years with our company. Without him and those like him, we wouldn't be able to reach the heights that we do. We look forward to even more years with MJ, both on the air and behind the scenes in the creative services department.
To hear MJ, just tune into KIX 102.5 weekdays from 10AM – 2PM. On Sunday nights, tune in from 10PM-Midnight to hear him present the New Music Showcase. You'll love hearing both him and the music no matter which shows you prefer. Learn more about MJ and see the face behind the sound on our page about him here.