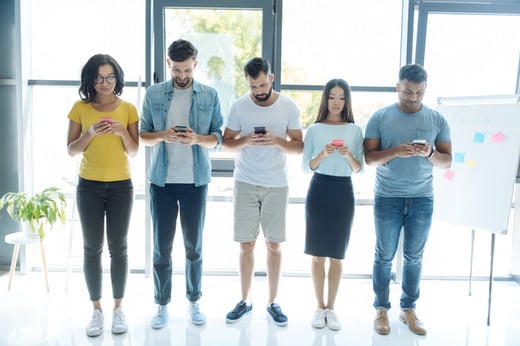 Every generation gets a name, and the one that is just starting to enter the workforce is Generation Z. Born between 1995 and 2010, this generation includes 61 million people under the age of 23. It is estimated that by 2020, they will make up 20% of the workforce.
This is important because experts believe they will drastically change the workforce, specifically in a way that blurs the line between work and life. And to effectively reach and engage this generation of workers, companies will have to take a new approach to their recruiting strategy.
What Employers Need to Know About Generation Z
To create a winning recruiting strategy, companies must first understand Generation Z's needs and preferences. To start, members of this generation tend to be globally connected, socially aware, visual, entrepreneurial and tech savvy. But despite being considered "digital natives," 74% prefer face-to-face communication with their colleagues, according to Monster. Furthermore, 41% of Gen Zs say they prefer to work in corporate offices.
Additionally, almost one-third of them would accept a 10-20% pay cut in order to work for a company with a mission they are passionate about. And while they are likely to demand a more positive working environment, 77% of Gen Zs expect to work harder than previous generations did.
4 Recruitment Marketing Tips for Reaching Gen Z
Employer branding is extremely important when attracting Gen Zs. Use the marketing tips below to successfully promote your brand and reach this new generation of workers.
1. Communicate Your Company's Core Values
Gen Z prides itself on being socially conscious and aware. They especially care about equality in the workplace. In other words, they expect diversity, inclusion and belonging. Therefore, it's important to communicate your core values in a way that aligns with these priorities.
2. Display Your Company's Culture
Job candidates typically prefer to get a glimpse of a company's culture before accepting a position. Members of Gen Z, in particular, want to be sure that there will be good work-life balance at their potential job. You can use visuals – both videos and images – to portray certain aspects of your company, including flexibility and your core values. And you can share these through a variety of channels, like email, your website and social media.
3. Be Sure You're Using the Right Social Media Platforms
Speaking of social media, it's important to target platforms that Gen Zs are most likely to use. Although Facebook remains one of the most popular social media sites, it's losing its appeal with Generation Z. Instead, platforms that specialize in visual content are on top. Those include YouTube, Instagram, and Snapchat, according to Criteo. Build a solid presence on these channels with compelling content that's designed to inform, engage and even entertain Gen Z workers.
4. Be Consistent
Generation Z is the most connected generation, and they use multiple online channels. They even tend to switch between five different screens: a smartphone, TV, tablet, laptop and desktop. Be sure to keep your branding, messaging, and overall "look and feel" consistent across all of the channels your company is using. Use the same logo, tagline, color scheme, visuals and other associated signals to provide a consistent brand experience. Any inconsistencies can steer Gen Z candidates away from your company.
With Generation Z beginning to enter the workforce, companies must now change their recruiting strategies to connect with these workers. Their preferences and expectations differ from previous generations, and you can use these facts and apply these tips to attract - and retain - the best Gen Z workers to your company.