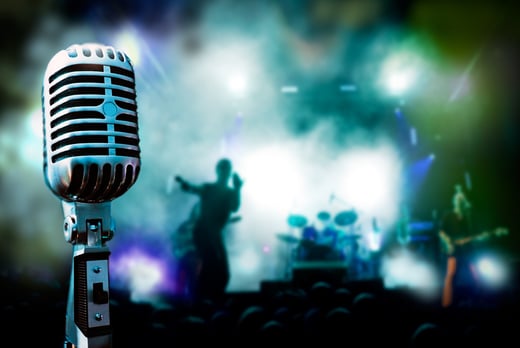 The types of music people love, and the radio stations they listen to, usually say a lot about their demographic qualities and overall consumer preferences. That's why radio advertising is so unique. It gives businesses the chance to access segmented audiences by targeting certain radio station formats and the listeners they tend to attract.
Different station formats and segments attract specific demographics, and rock radio listeners are no different.
But how exactly can businesses use the loyalty of rock format radio listeners to their advantage? And why should this loyal listener demographic matter to you?
Who is the rock format radio listener?
We can dig into the persona of the rock format radio listener by looking at some of the Big Dog 97.9 listener data here in the Four States. Big Dog indicates that around 70% of classic rock listeners are male, and around 75% of listeners are aged 25-54 years old. Recent data has also shown surprising (and steady) growth in the 18-24-year-old age range.
Rock listeners are also more likely than the average consumer to be the principal shopper for their households. Also, over 31% of rock listeners above the age of 18 earn over $100,000. So, think of your "average" rock format listener as skewing toward middle-aged, male who works a middle to upper-income professional job. The top occupations of rock listeners are Sales & Office (17.1%), Professional and Related (13.8%) and Management/Business/Financial (12.2%).
Rock Format Listeners Behavior
Per Big Dog's data, the top five interests of rock listeners are technology, news, music, movies, and TV. In terms of in-market segments, Big Dog 97.9's research also indicates that automotive, travel, and consumer electronics are among its listeners' most popular. Nielsen also indicates that the average rock listener tunes in for about four and a half hours per week. At the end of the day, the rock format is here to stay.
The Loyalty of Rock Format Listeners
Rock format listeners are some of the most loyal of any format. They're used to listening to the format, and will often take the station with them when going out of market if possible (website, mobile app, etc.). For example, one of Big Dog 97.9's loyal listeners runs a heating and air conditioning crew. He makes about $40 an hour, and around $100,000 per year with overtime. He listens to Big Dog 97.9 every day, and has downloaded the Big Dog 97.9 mobile app for when he works out of market. When he'd go to Fort Scott, Kansas, to do duct work for local schools, he'd listen to rock on the Big Dog mobile app. Simply put, rock listeners love the format and enjoy listening day in and day out, wherever they are.
Why does the loyalty of rock listeners matter to advertisers?
The rock format allows advertisers to reach a targeted demographic, that's also highly engaged, with strategic messaging. Take "Rock on the Range," which is a national rock event that sells out every year, packing in over 120,000 people over three days. Rock music fans support their favorite musicians and bands even as they get older, and they almost feel like they're a "member" of the band. So here are some key things advertisers should consider when trying to connect with this demographic:
Create listener-specific ads. When designing ads for the rock demographic, choose a voice and tone that will speak to them, specifically. Consider the interests of the rock demographic mentioned above (tech, auto, etc.) when choosing how to advertise.
Consider brand loyalty. Just like they are loyal to their music and bands, rock listeners are extremely loyal to brands and products. Often, they associate brands with fond memories or situations like they do with music. If they were listening to Ozzy Osbourne in a Chevrolet during their first kiss, both the music and the car brand are likely two things they'll never forget.
Just try it. Advertising on rock format works, and the best thing to do is to try it out with a strategic plan. One particular small business owner who runs a propane tank business advertised on a rainy Memorial Day weekend for a live Big Dog event. While event turnout was low due to the weather, the owner called Big Dog the following weekend and said that business spiked incredibly during the week following the event. It was a moment where he said, "Wow, people really

were

listening!"
Decided that you've been ignoring rock format listeners far too long? Let Zimmer Radio help you reach them, no matter what kind of business you operate!