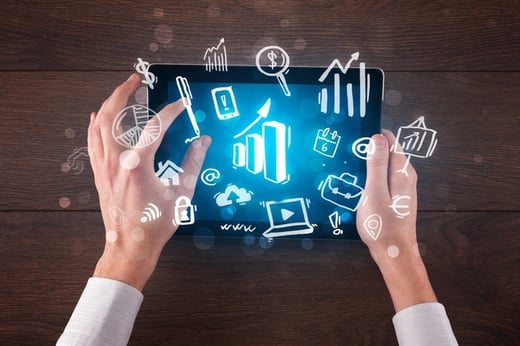 Digital advertising isn't always as simple or straightforward as it may seem. For brands trying to integrate digital for the first time, there's so many options that it can be overwhelming. And more experienced marketers may want to create an entirely new digital strategy because their current strategy isn't working.
To help you get started, we've put together a list of four things you need to know when launching a digital advertising campaign. These tips can be used by beginners and experienced marketers alike, so be sure to peruse each and apply them to your marketing plan.
Know Your Target Audience
This is the first rule of marketing, but it's especially important for digital advertising. You need to know what platforms they're using, how they use them, what types of ads they're more likely to view, and where they expect to find and engage with your brand.
In addition, you need to understand the type of creative and messaging that will resonate with them. This is important because digital ads allow high-level targeting and personalization that isn't available through traditional channels. If your ads aren't targeted properly, your ROI will take a hit because the audience will likely ignore — or even be frustrated by — the ad.
The best way to better understand your audience is through surveys, questionnaires, and other dependable market research. Always base your targeting on up-to-date data, not assumptions about who your audience is or how they behave.
Know Your Budget
Your budget must always come first, and it needs to be adhered to. It allows you to understand your limits so you can plan accordingly. Remember to set a budget for the year, as well as a budget for each campaign and digital channel. You shouldn't undermine your other business or marketing goals by overspending on one channel.
Furthermore, you need to spend your budget with your audience in mind. Focusing your paid social on Facebook when your audience uses Twitter is a waste of ad spend that yields very little in return. Only invest in the platforms and trends that will put your brand in front of your audience.
Know Your Method
Next you'll need to define the channels you want to use for your overall campaign, both digital and off-line. This will help you determine what to expect from each channel, so that you can optimize your campaign for the best results. Identifying your advertising channels also builds the foundation for consistency in cross-channel branding, creative, and messaging. Each channel requires something a little different, but that builds touch points across the path to purchase, allowing you to reach your audience in different ways.
As long as it aligns with your budget and your audience, always consider all of your options, whether it's traditional avenues like newspaper and magazine, digital solutions like video pre-roll on streaming services, or retargeting based on user behaviors. Remember, combining traditional and digital channels, like social media and radio, can boost your digital ROI versus using channels individually.
Know Your Measuring Tools
You need to determine what you're going to measure on each channel, and select the right tools to track each metric. The bottom line needs to be your ROI, so choose your KPIs carefully. They'll help define whether or not what you're doing is working.
When what you're doing isn't working, you need to be prepared to change course. Naturally, that requires tracking results in real time, and not simply at the end of each campaign. Results should also be used to optimize future campaigns.
Not sure how to best track ROI? Consider these tools and strategies:
Google Analytics (website traffic, blog engagement, CTR, and more)

Unique, trackable URLs, especially for landing pages (responses to cross-media campaigns with specific landing pages)

Promotional codes, unique to campaign or to individuals depending on method (responses to specific messaging across media)

Social media analytics tools, varied by platform (engagement, CTR, etc.)

Social listening (gauging brand perception, especially with regards to keywords used in the campaign, enabling PR)

CRM platforms (track sales, etc.)

Email tracking (measure open rates, CTR, etc.)

Revenue changes during the course of the campaign
This list represents the foundation of a digital advertising strategy. Use these beginner tips to launch or improve your next digital campaign.