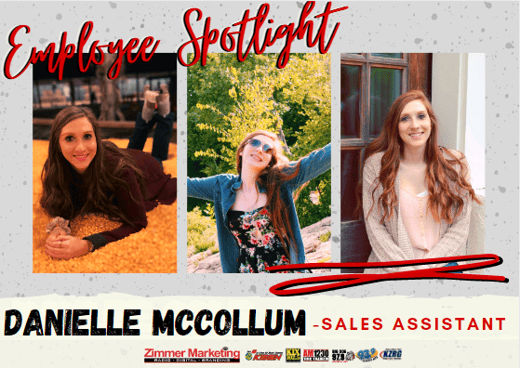 Here at Zimmer Marketing, we are a one-stop shop. We have a team of both radio and digital marketing experts, who work with businesses in the four states area to develop effective, integrated marketing campaigns. This comes with many different moving parts in making sure our clients see success. Every person on our team has an important role to play in this process. This Employee Spotlight series will focus on highlighting each member of our team, so you can get to know the people behind the scenes that make our success possible.
This edition of Zimmer Marketing's Employee Spotlight features Danielle McCollum. Danielle is a Sales Assistant here at Zimmer Marketing.
What is your favorite thing about working for Zimmer Marketing?
The people! Everyone is very nice, and I have felt like I belonged since day 1. I also enjoy having the opportunity for creative freedom when it comes to certain projects.
If you wish you had written one song, what would it be?
Drops of Jupiter by Train
What's one thing most people don't know about you?
I can say the alphabet backwards
What is the best show you've watched on a streaming service?
Dead to Me and Tiger King on Netflix.
Who is your favorite singer/band?
Selena Gomez, 3 Doors Down, Bad Suns, The 1975, Matchbox 20, Morgan Wallen, anything early 00's pop punk...as you can see, I like many different styles of music and it's hard to choose just one!
Who would play you in a movie about your life?
If you could go anywhere in the world on vacation, where would you go?
If you had to live in another time period, what would you choose?
I was born in the nineties, but I've always felt I was born just a few years too late. I would've liked to have been a teenager in the nineties instead.
Halloween. I love all things spooky!
I like both, but currently I have the sweetest cat that I love!
What's your favorite food? Or dessert?
I like pasta, and love chocolate brownie fudge ice cream!