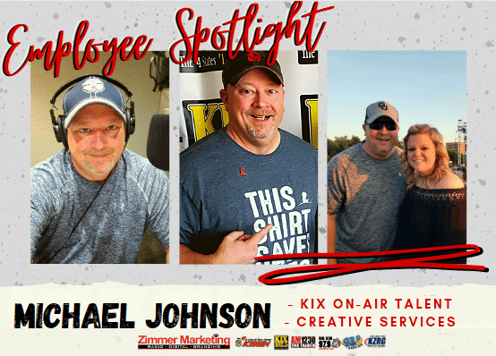 Here at Zimmer Marketing, we are a one-stop shop. We have a team of both radio and digital marketing experts, who work with businesses in the four states area to develop effective, integrated marketing campaigns. This comes with many different moving parts in making sure our clients see success. Every person on our team has an important role to play in this process. This Employee Spotlight series will focus on highlighting each member of our team, so you can get to know the people behind the scenes that make our success possible.
This edition of Zimmer Marketing's Employee Spotlight features Michael Johnson. MJ is part of our on-air talent, as well as a member of our creative services team here at Zimmer Marketing.
What is your favorite thing about working for Zimmer Marketing?
The camaraderie. I've met and made a lot of great friends through here.
If you wish you had written one song, what would it be?
Jason Isbell's "Cover Me Up"
What's one thing most people don't know about you?
I wrote a song that was included on a compilation CD of best songs from unsigned writers several years ago. I still occasionally listen to that CD and think that could've been better but it was fun at the time.
What is the best show you've watched on a streaming service?
Who is your favorite singer/band?
I'm a music fanatic. It'd be too hard to pick just one but Sean McConnell has to be the best vocalist. After seeing him live in concert, I dubbed him "The Voice." He's that good!
Who would play you in a movie about your life?
If you could go anywhere in the world on vacation, where would you go?
Nashville to see my daughter, or anywhere close to the water. Beach, lake, doesn't matter as long as Ican be in the water.
If you had to live in another time period, what would you choose?
Thanksgiving. I was actually born on Thanksgiving a few years ago.
Fish. I'm not gonna eat a dog or a cat. LOL.
The book of face. I'll look at IG occasionally but have never posted on it.
What's your favorite food? Or dessert?
I like no bake desserts. Cheesecakes (not cherry), dirt cake, oatmeal cookies.