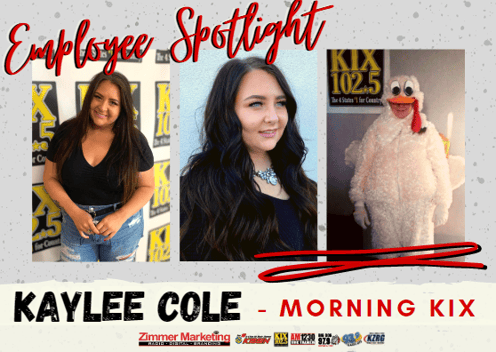 Here at Zimmer Marketing, we are a one-stop shop. We have a team of both radio and digital marketing experts, who work with businesses in the four states area to develop effective, integrated marketing campaigns. This comes with many different moving parts in making sure our clients see success. Every person on our team has an important role to play in this process. This Employee Spotlight series will focus on highlighting each member of our team, so you can get to know the people behind the scenes that make our success possible.
This edition of Zimmer Marketing's Employee Spotlight features Kaylee Cole. Kaylee is part of our Morning KIX crew here at Zimmer Marketing.
What is your favorite thing about working for Zimmer Marketing?
How amazing the ownership of the company is. No, I'm not sucking up...they have shown time and time again they stand behind their employees, even in rough times whether that be financially or with personal situations. They really are the best company to work for!
If you wish you had written one song, what would it be?
Either Garth Brooks "The Dance" or The Beatles "Let it Be"
What's one thing most people don't know about you?
Radio was not my intended career path. I graduated from MSSU with a psych degree and wanted to be a school counselor and started Zimmer part time with grew into my full-time position!
What is the best show you've watched on a streaming service?
Just one?!...You, Yellowstone and Parks & Rec
Who is your favorite singer/band?
Too many to pick just one! Garth Brooks, Cody Johnson, Tyler Childers, Lady Gaga, Lizzo, Cardi B...wide range!
Who would play you in a movie about your life?
I would want Aidy Bryant from SNL!!
If you could go anywhere in the world on vacation, where would you go?
Anywhere there is a beach! I love the water and want to visit so many of the worlds beaches.
If you had to live in another time period, what would you choose?
Any era but the COVID-era... (:
Instagram....but I do love the TikTok hole that you can scroll for hours!
What's your favorite food? Or dessert?
Ha, I love food! I'm not super picky but I love steak and green beans. And I love rich chocolate cake!