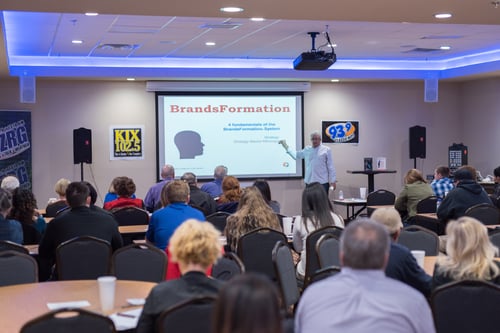 There's an exciting event headed your way this fall - BrandsFormation 2018! After a successful event in March, we're bringing the free educational workshop back to help even more Four State business owners develop their brand and improve their bottom lines. Scheduled for Wednesday, November 7 at 8:00 am., BrandsFormation 2018 is designed to help you transform your business from good to great.
What is BrandsFormation?
We're excited to welcome back Chuck Mefford, the presenter for BrandsFormation 2018. As a business strategist, author and consultant to businesses of all sizes, he's distilled his knowledge into the powerful 4-Step BrandsFormation System to help business owners and marketers grow their brand.
At Zimmer, we teach our advertising partners this simple approach to help them drive revenue growth for their business through branding. The four pillars of BrandsFormation include:
Strategy

Strategy-Based Message

Consistency

Dominant Frequency
These steps are proven to help you gain real traction in your market and improve your ROI. And in addition to the BrandsFormation System, attendees can also expect to learn about the following topics:
Taking advantage of social media

Getting the ROI you need from your advertising budget

The best way to gain mental real estate with your consumer

Proven marketing strategies that you can utilize to start building your business
Together, these concepts will help your message resonate with your audience - compelling them to remember your brand and invest in your products and services.
Expect to walk away with a great deal of practical knowledge that you can immediately begin to apply to your business. Make plans today to join us Wednesday, November 7th at 8:00 am at the Twin Hills Country Club in Joplin, MO. You can register for the free workshop by calling 417-624-1025 or registering online anytime. We hope to see you there!