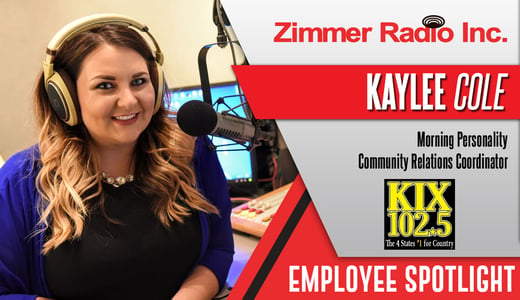 Welcome to the second edition of our Zimmer Radio Inc. team spotlights! Our team of radio and digital marketing experts work with businesses in Joplin and the surrounding Four States Area to develop effective, integrated marketing campaigns. But we're not just passionate professionals—we're people with unique stories to tell.
In this series, we're introducing the people that make up our team. We ask a mix of questions, so you can get to know Zimmer Radio!
Today's spotlight features Kaylee Cole— Co-Host for Morning KIX and Dallas Cowboys fan extraordinaire.
What color is your toothbrush?
It's an electric tooth brush and it's white!
Who is your favorite Disney princess?
Cinderella <3
Who would play you in a movie about your life?
Apparently everyone in the office says Katy Mixon...haha
What is the strangest thing you've ever eaten?
A chocolate covered cricket.
What's the best show you've watched on Netflix?
I like to stick to Friends and The Office. I'm a "reruns junkie!"
What is your favorite sport?
Football. Go Cowboys!
Complete this sentence: "When I dance, I look like __________."
Hahahahaha… My mother.
How do you like your steak cooked?
Medium.
What chore do you hate doing?
Cleaning the bathroom...ugh
iPhone or Android?
iPhone!
What is your favorite vacation spot?
My parents live about an hour from the North Carolina coast, so I would say there. I get the best of both worlds: family time and beach time.
Who is your favorite singer?
Depends on the genre… but Garth Brooks is my all time favorite!
What is your favorite thing about working for Zimmer Radio?
So there is that saying, "If you love what you do, you'll never work a day in your life." Well that's totally true. I love working at Zimmer Radio! I don't feel like this is "work" most of the time. I have worked at Zimmer Radio for almost 7 years and when I say 7 years it's almost like I have to think about how long I've been here because it doesn't feel that long! I love my job, I love the environment, I love this company, and I'm fortunate that I get to have a FUN job!
Learn more about Kaylee Cole and listen live to KIX 102.5.