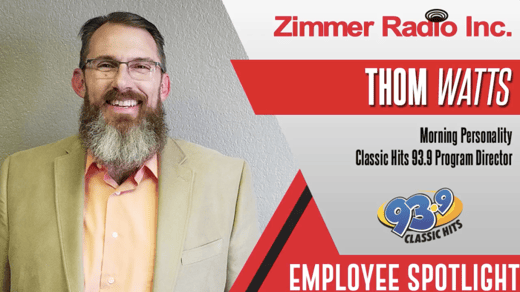 Welcome to the first edition of our Zimmer Radio Inc. team spotlights! Our team of radio and digital marketing experts work with businesses in Joplin and the surrounding Four States Area to develop effective, integrated marketing campaigns. But we're not just passionate professionals—we're people with unique stories to tell.
In this series, we're introducing the people that make up our team. We ask a mix of questions, so you can get to know Zimmer Radio!
Today's spotlight features Thom Watts—music junkie, lifelong Joplin area resident, morning personality, and Classic Hits 93.9 Program Director.
What color is your toothbrush?
Which one? Yellow, white, and blue. (*Flashes smile)
Who is your favorite superhero?
The Punisher, hands down.
Who would play you in a movie about your life?
I'm told Tom Cruise but, I don't think he's weird enough, so…
What is the strangest thing you've ever eaten?
I honestly cannot answer that! I've eaten a lot of weird stuff in my life.
What's the best show you've watched on Netflix?
So far, Stranger Things.
What is your favorite sport?
Football.
Complete this sentence: "When I dance, I look like __________."
An idiot! But I love to dance!
How do you like your steak cooked?
Medium rare.
If you could go anywhere in the world on vacation, where would you go?
Everywhere… I've been to Mexico, I'd love to see Europe. A lot of my family is from France, Ireland, and basically all of Western Europe, Italy…
What chore do you hate doing?
Around the house, it's so simple but—I hate unloading the dishwasher. I will wash dishes by hand, but I hate unloading the dishwasher.
iPhone or Android?
Android
What is your favorite thing about working for Zimmer Radio?
They pay me to stand around, goof off, play music, and talk! I've had real jobs before, and this is a lot better…
Learn more about Thom Watts and listen live to 93.9 Classic Hits.