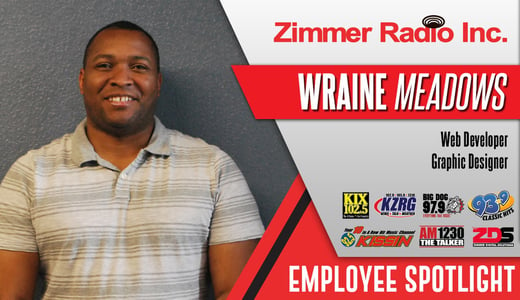 Welcome to the fourth edition of our Zimmer Radio Inc. team spotlights! Our team of radio and digital marketing experts work with businesses in Joplin and the surrounding Four States Area to develop effective, integrated marketing campaigns. But we're not just passionate professionals—we're people with unique stories to tell.
In this series, we're introducing the people that make up our team. We ask a mix of questions, so you can get to know Zimmer Radio!
Today's spotlight features Wraine Meadows, Zimmer Radio's Web Developer and Graphic Designer.
What is your favorite sport's team?
Liverpool FC it's an English soccer team
Worst day of the week?
Tuesdays. It's like Monday part 2.
Complete this sentence: "When I dance, I look like I got soul!"

What movie do you wish you had never seen?
The Rocky Horror Picture Show! A lot of people view it as a classic. I hated it.

What is the strangest thing you've ever eaten?
Chocolate covered ants when I was in 2nd grade

Go to cocktail?
Captain Morgan's and pineapple juice

If you could go anywhere in the world on vacation, where would you go?
Bora Bora

What chore do you hate doing?
Folding laundry

Mac or PC?
PC

What is your favorite thing about working for Zimmer Radio?
The people. Since I started everyone has been great. Super nice and lots of big personalities.

If you wish you had written one song, what it would be?
I can't narrow it down to 1. There have been so many songs across so many genres that I can't pick just one. Maybe Michael Jackson's Thriller or I Can't Make You Love Me by Bonnie Raitt.