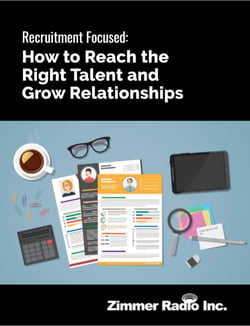 According to TalentNow, nearly 73% of employers struggle to find qualified candidates for their open job positions. This is partly due to low unemployment rates, as the national average is 4%. If you can relate, you may have already tried all the usual avenues for finding your next employees, including online job boards like Monster, Indeed and CareerBuilder. And although these boards are popular among job searchers, their one-click applications and lack of vetting can leave you sifting through an unending list of applications from unqualified candidates.
Radio, on the other hand, can help you maximize your ability to reach qualified candidates and promote your business at the same time. To help you decide if this route is right for you, here are six reasons why radio should be a part of your next recruitment campaign.
Broad Reach and Influence
According to Nielsen studies, 93% of adults tune in to their favorite radio stations every week. Surprisingly, that figure exceeds the number of people watching TV or using a tablet, smartphone or other digital device in the same period of time. As a result, the reach and influence of radio cannot be surpassed, making it an excellent way to reach the right talent and grow relationships.
Exceptional Targeting Abilities
Using radio to run your employee recruitment advertisements can help you directly reach your target audience. With the ability to run your ad on select stations and dayparts, your ads will only play when and where your target audience is most likely to tune in and listen.
Furthermore, radio can reach diverse audiences that you may have had difficulty engaging through online job listings. For example, the Hispanic and black radio audience accounts for one-third of the overall listening audience, according to Nielsen.
Passive Job Seekers
As reported by TalentNow, approximately 86% of the most qualified candidates for your available positions are already employed and not actively looking for job opportunities. Therefore, you will not reach these individuals on any job board, online or otherwise.
Radio, however, gives you a better opportunity to reach passive job seekers, as 76% of radio listeners between the ages of 18 and 64 are in the workforce, according to Nielsen. What's more, the same study found that listeners who are employed full-time engage with radio 2.5 hours longer per week than listeners who are not. Employers can run a recruitment ad during drive time, for example, to reach qualified candidates on their way to and from work.
Loyal, Engaged Listeners
Nielsen reports that, while listening to the radio, listeners spend about 87% of the time switching between their top three favorite stations. And about 58% of that time is spent listening to their favorite radio station above all others. While listening to their favorite radio station, listeners are also less likely to switch between stations during commercials. By running your ads on radio, you can directly engage with this loyal audience to maximize the power of your employee recruitment message.
Endorsements from On-Air Personalities
A big reason why listeners tune into their favorite stations is due to their connection with the on-air personalities. Over time, these personalities tend to build trust and influence with their audiences. And as a result, the endorsements they share have a resounding impact on listeners that far exceeds any other medium. When radio personalities share your employee recruitment ad, you can trust that their influence will help drive qualified applicants to your business.
Return on Investment
Listeners tend to act on the information they hear on the radio quickly, even if it's just a Google search of the business they heard in the ad. For an optimal campaign, time of day is irrelevant. What matters is that you air a compelling ad that will connect with your target listeners and that they hear the ad at least three time in a given week. With this formula your campaign will deliver you ROI in the form of qualified applicants. A
Use Radio to Boost Your Recruitment Strategy
Although online recruitment strategies can help you cast a wide net, consider using the power of radio to effectively target and reach qualified candidates. Radio can help you optimize your recruitment strategy by attracting top talent fast and building relationships from the moment they hear your radio ad. You can get started by reaching out to your favorite local radio station to see how they can help you fill your open positions with the most qualified candidates.