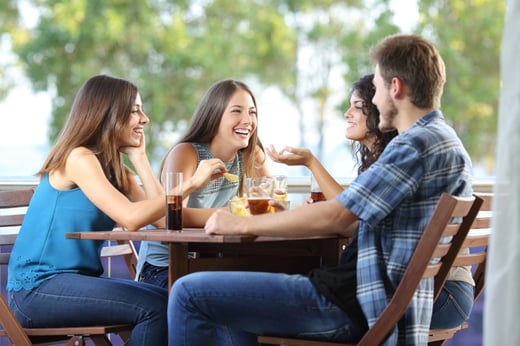 Weather can have a big impact on our behavior. Not only does it affect our choice of activities, but it can also affect our mood and have an influence on the kind of food we want, as well as the type of place or atmosphere in which we prefer to dine. In this article, we take a look at the effects of warm weather on consumer behavior, the types of foods consumers prefer, what kind of restaurants they want to dine in, and how best to reach customers during the summer months.
Psychology of Warm Weather
Warm weather tends to put us in a good mood. The term "spring fever," which refers to weather that makes people happy and more positive, may have its roots in psychology. When the weather is nice, people want to get out of their homes and offices.
Impact of Warm Weather on Dining Behavior
Dine-in or take-out? People are busy during the summer, so they may turn to delivery or takeout for convenience.

Indoor vs. outdoor dining? It's no surprise that customers like to eat outside when the weather is nice, but if the temperatures are

too

warm, they may prefer to dine in the air-conditioning. A notable exception, however, is millennials, who like to dine outside even on the hottest days.

Time to try new things? With warmer weather, and the lift in people's moods, they can be more eager to try something new, like a new menu item.

Types of foods? During the summer, people have grilling on their minds. Grilled meats and smoky BBQ flavors are popular. Consumers also tend to choose seasonal fruits and vegetables during hot weather.
Take Advantage of the Warm Weather
Align your marketing message with the types of foods and services consumers are looking for during the summer. Advertise your outdoor dining areas and new summer menu items, and highlight summer terms such as "grilled" and "BBQ" to attract interest. Remember that radio listening tends to increase during the summer, with more people tuning into the radio as part of their outdoor activities and listening at different times than usual — i.e., not confined to weekday drive time — making radio a good channel for reaching consumers during hot weather. Personalize your message in a way that makes it easy for them to relate to it.
For a lot of restaurants, summer is the busiest time of the year. So, ensure that you are taking full advantage of the opportunity to increase sales by tailoring your marketing message to customers who are in a good mood and ready to try something new.