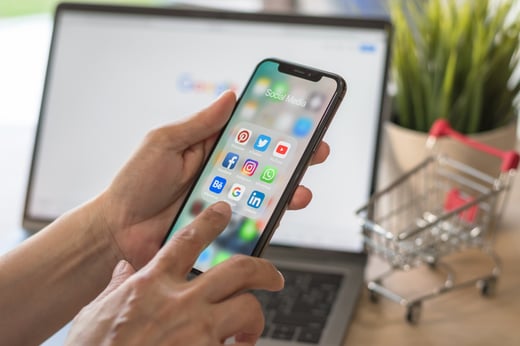 Before you start building a winning digital branding strategy, let's start with the basics – what is a digital branding strategy, and why is it important?
Digital branding helps a business establish its brand identity in the digital space through imagery, content and interactions with their target audiences. With over 50% of today's consumers following at least one brand on social media, your business can't afford to ignore this opportunity. When done right, digital branding helps grow brand awareness, loyalty and advocacy – three elements that are valuable when competing for market share. Here are a few tips that will assist in building a successful digital branding strategy:
1. Define your goals and purpose
It's important to establish digital marketing goals when building your strategy. By defining your goals, you'll be able to set benchmarks to reach, assess how your campaigns are doing, and have the data to pivot when needed. These goals could be increasing online sales, capturing more web leads or improving your social media engagement.
2. Identify key channels
Identifying and incorporating the channels that support your digital branding strategy is key. While there are numerous channels available, choosing the ones that work best for your business and audience is more strategic. Conducting a bit of research to determine which channels tie into your goals and audience preferences is a good first step. Utilizing different channels and tactics like search engine optimization (SEO), display advertising, and social media are options that can work in your favor and positively contribute to your bottom line.
3. Develop content for each channel
Content plays a critical role in digital branding. The most important thing to remember is that your content should always support the goals of your digital branding strategy. Your business should be sharing content regularly while keeping your brand messaging and visual identity consistent across all the channels you use.
Tailoring the content for each specific channel or tactic is also key to building a successful digital branding strategy. For example, long blog posts are great for SEO, but when utilizing social media, short videos and vivid images work best.
4. Execute your strategy
All your channels and tactics must be integrated and working together to adequately support your digital branding efforts. Having an integrated marketing strategy that combines your efforts to gain traction can make a huge difference in engaging your target audiences. When planning your execution, make sure you have the budget, tools and resources available to be effective. Even the best laid plans will fail if you don't have what you need to get it done.
5. Monitor your efforts
Monitoring your efforts is one of the key components in ensuring the success of your digital branding strategy. Tracking your key performance indicators (KPIs) based on your initial goals will provide insight on whether your campaigns are working, if you're reaching your target audience(s), what you need to change, and what you may need to implement. This data helps refine your goals and set new objectives down the line.
Having a digital branding strategy adds value to the overall business objectives while helping the company move forward. These tips should help you build a digital branding strategy that will drive continued business success now and in the future.