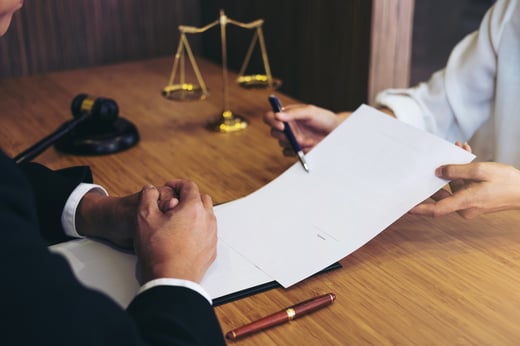 Have you stopped to think about what makes your law firm unique and how you stand out from the competition? Most businesses are exceptional at doing their daily tasks but may be a bit lacking when it comes to telling their brand story. Each organization is valuable in a different way to current and prospective clients, but are you effectively communicating that information? When you find what lifts your business above being a commodity, you may have discovered your difference maker.
What is a Difference Maker?
Are there certain jingles that you can hear on the radio and immediately associate a brand and even a logo with that sound? Or perhaps you hear a turn of phrase that conjures up a specific business -- and evokes a strong positive emotion at the same time. These businesses have discovered what makes them different and created a compelling story that draws their audience into the conversation. This goes into the heart of what branding is all about. Not just a logo. Not just a color scheme. Every interaction that prospects and current clients have with your business are another layer of your brand, whether you realize it or not. Tightly defining what makes your brand unique and special allows you to leach that information into every corner of your business -- even operational areas such as accounting.
Six Tips to Uncover Your Difference Maker
Now that you see the value of a difference maker in your business, how do you uncover what makes you uniquely valuable to your clients? These six tips will help refine your differentiation:
Study your current clients.

Think about interactions with ideal clients. What drew these particular individuals to your business? What do they appreciate most about working with your law firm? Keep in mind, you're not thinking about

every

client, you want to consider your very

best

clients -- the type of people that you want to work with on an ongoing basis. For instance, this could be due to their ability to afford your services or the specific type of assistance that they need.

Conduct market research.

When you understand the common pain points of your clients, you're one step closer to being able to add this information to your brand story. How can you help your audience see that your brand is the solution to their problems? A thorough understanding of your best clients feeds into this narrative.

Take a hard look at your competition.

Look for visible gaps in the competitive landscape, and whether your Joplin law firm is a good fit to fill them in. Are your competitors offering a service that you believe would work for your firm? Always be on the lookout for ways you can differentiate your business from others.

Explore your company values.

Now that you've looked externally, it's time to turn the introspective lens on to your law firm's values. How do the distinctive qualities that make your business unique appeal to your preferred clientele? Are there points where you offer benefits that cannot be found elsewhere?

Outline your brand story.

Telling your brand story is an opportunity to show where your passion truly lies. Perhaps you have an inspirational backstory for your law firm, or you simply want to help others. Get ready to extol your virtues in a way that will evoke emotion in your prospective clients.

Consider your unique achievements.

There are times when it's okay to boast about your achievements, especially if they are part of what makes your business special. Perhaps you are a female or minority-led organization, volunteer in your community or do pro bono work. These are all examples of positive attributes of your business that also feed value back to society.
Elements of each of these tips will go into creating the story of your brand -- your difference maker. Once you have defined your story, test it with your audience to see if it resonates with their needs and is a compelling message. Once you hit upon the ideal mix, you'll find that your Joplin law firm will be able to amplify these themes throughout your marketing and advertising. Ready to learn more about how advertising can boost your business? Check out our Zimmer Radio small business blog today or contact us for more information at 417-624-1025.