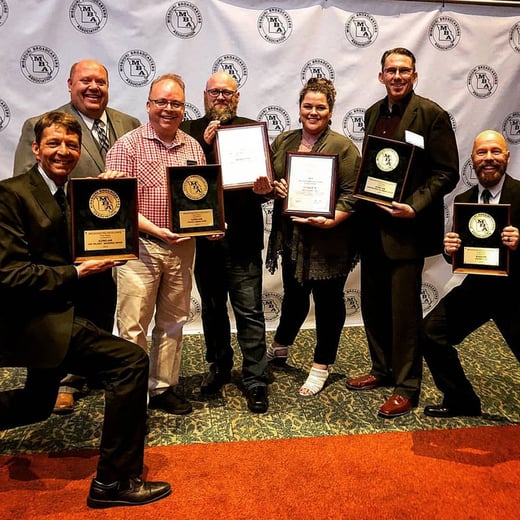 Zimmer Radio, Inc. was the recipient of several awards reflecting its excellence in radio broadcasting and community service during the Missouri Broadcasters Association's 2019 Awards Banquet.
The Missouri Broadcasters Association (MBA) Awards provide prestigious recognition to those members that set a consistently high standard for success within the industry.
"We not only recognize the tremendous talent in our Missouri radio and television markets today, but also the lifetime achievements of our three Hall of Fame inductees," MBA's Director of Member Services Terry Harper stated in a release.
Zimmer received six awards – including four first-place trophies – during the awards banquet, held June 8 at the Branson Hilton Convention Center. There were 329 broadcasters and guests in attendance at the banquet, which was part of the MBA annual convention.
Bolstering the Broadcasting Industry
The Missouri Broadcasters Association's mission is to promote the success and prosperity of Missouri's broadcasters and the survival of the broadcasting industry. The professional association achieves its mission through several means, which include encouraging the highest standards in broadcasting by recognizing and sharing examples of excellence and achievement. The annual convention and awards banquet illustrate that facet of the association's mission.
Additionally, the MBA achieves its objectives through the combined support, input and leadership from its broadcaster members, including Zimmer. The association also provides a myriad of resources for members and frequently advocates for legislation that promotes their success.
An Industry Leader
Zimmer, a Missouri-based, family-owned company with six radio stations and a growing digital media department, was recognized by the MBA for its talent, reputation, and passion for radio, as well as its dedication to the local community. The company's enthusiasm for local businesses and comprehensive approach to marketing and advertising set it apart from other conventional marketing agencies.
Zimmer received recognition and awards for its work in six distinct areas. The awards include:
First place in the Air Talent/Morning Drive category for KZRG Morning Newswatch in the Joplin/Pittsburgh area
First place in the Promotion category for its KIXQ-FM Concert Tickets to Anywhere entry
First Place in the Corporate Award for Community Service category for its KZRG Honor Flight entry
First Place in the Social Media Star category for its Newstalk KZRG Facebook Page
Certificate of Merit in the Best Local Website category for KIX1025.com
Certificate of Merit for its Commercial Announcement Series, KIX 102.5 Cantina Bravo
The Zimmer Team
The Zimmer team, a group of hardworking, fun professionals, is honored to receive these prestigious awards from the MBA, which includes members from all across the state who pose tough competition. They are elated to see their hard work pay off as they continually strive to achieve the company's two main purposes: helping clients' businesses grow and serving their listeners.
Zimmer Radio is also dedicated to being a vital part of the community and free source for news, entertainment, and information. They are involved in helping with various public service initiatives across local markets to cultivate a sense of pride, spirit of involvement, personal accomplishment, and partnership.
As an award-winning and industry leading company, Zimmer continues to operate off the original core values adopted when the company was established in 1956.
For more information, contact Zimmer at 417-624-1025 or visit the company's website at zimmermarketing.com.