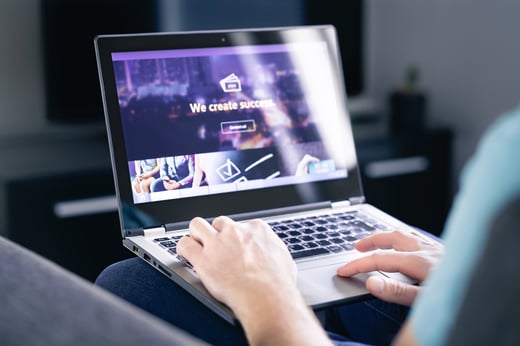 An effective About Us page is incredibly important for your business. It's one of the first places consumers check when they want to know more about your business: who you are, what you can do for them, and what's important to you as a business. It can be tough to figure out what to include when you need to explain everything about your company in one page.
Using an effective brand storytelling strategy can make it easier. Through brand storytelling, you can create a compelling narrative that will raise customers' connection with your business. Ready to get started? Consider these best practices for telling your brand story on your About Us page.
Keep Your Vision Clear
Your company has a clear vision: the goal and purpose that sets you apart from other businesses in your industry. What is it that should encourage potential consumers to choose you, not your competitors? How is your brand different? The UK business Tate, for example, does a great job of expressing who they are and what's important to them. Their commitment to race equality stands front and center on the About Us page for the organization.
A clear vision statement can also increase consumer support. For example, 71% of consumers will spend more to support a business that supports a good cause. This means that people would rather forgo a deal if it was supplemented with a charitable aspect. Fifty-seven percent of millennial women make shopping decisions based on what a brand stands for--and they want to shop with businesses that support sustainability and care about the same things they care about.
Don't Forget Where You Came From
Your brand has been on a long journey. Give your website visitors that backstory: a clear picture of how you've evolved. Make sure to include the important elements of a story: conflict, the turning point, and the resolution. Consider what your business has overcome. What obstacles stood in your way as you moved toward making a buying decision? What was your turning point? When did you shift your business operations or overcome that obstacle? Finally, what was the resolution: the point that brought you to where you are today?
Many brands use this highly-effective strategy. Cotton Babies, for example, shares its creator's story: a beginning that started with $100 of product in a milk crate. Yellow Leaf Hammocks shares an inspiring journey on a motorcycle that led to incredible innovation and a commitment to women's employment. Tell your brand's story: where you began and what it was that pushed you to success. Many members of your target audience will connect with that story and use it to further their appreciation of your brand.
Who Do You Serve?
Before you write your About page, make sure you have a solid understanding of your target audience. You want to know who they are and what speaks to them, such as their pain points and the challenges they are facing. Be very clear about what you can offer your target audience: the answers to their struggles as well as your commitment within your industry.
A highly effective About page also shows examples of customers you have helped in the past. Your business has already answered the challenges faced by many past satisfied customers. Seeing your past successes can help potential customers trust your business and what you have to offer.
What Are Your Core Values?
Customers favor companies with core values that are aligned with their own. Eighty-three percent of millennials want to support businesses whose core values are aligned with their own. People want to know what you care about and how you're acting to show that you genuinely care. Your About page can include information about how your business lives out those core values. Highlight how you give back to your community, support consumers, and keep your business moving. Those core values can help deepen consumers' connection to your business and show them why you're different from your competitors.
There are a lot of elements that go into writing an About Us page that will convert potential consumers. An effective brand storytelling method can help you capture your brand in a way that will appeal to your consumers and give them a better idea of what you have to offer. Working with a media partner as you tell your brand story is a highly effective way to not only create a better About Us page, but to align your brand identity with your overall marketing strategies. If you want to grow your brand, connecting with an experienced media partner can help provide the tools you need.