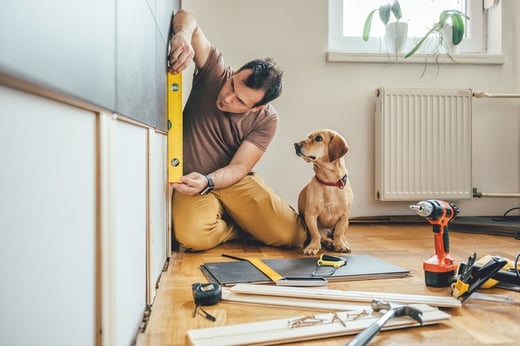 It may be strange to think of an industry like home improvement having an "off season," but it certainly does. Think about it: In spring, people take on projects like painting to help make their home look great for the summer, and in the summer, they take on bigger projects like additions and window replacement because the weather is amenable, the daylight hours are long, and they can go on vacation while the work is being done. In fall, people work hard to wrap up projects and prepare their home for winter. However, whether during the winter (especially snow and frigid temperatures), short daylight hours, a cluster of major holidays from Thanksgiving through New Year's Day, and the beginning of tax season all make homeowners shy away from home improvement projects.
Does that mean you shouldn't be investing in home improvement advertising during the off season? We'll take a quick look at the pros and cons of running advertising for home improvement during the winter.
Pros
There are certainly some advantages to advertising in late fall through early spring. Here are just a few:
Competition is slim.

— Because it's the off season, most of your competitors won't be advertising at all. That means that when homeowners do want to commit to

home improvement

during the winter, your brand will be the one they hear about.

Easily establish yourself as the market leader.

— When your brand seems like the only brand, that puts you top-of-mind and makes you the top choice. Plus, when you become the top choice, your brand also becomes the top voice in terms of professional influence and thought leadership. Your brand becomes the one they turn to with questions.

Firmly build brand awareness.

— Even if homeowners don't want to start a project during the winter, they're probably considering projects for later in the year. Advertising through the off season allows you to establish your brand as an option earlier in their consideration phase. It also provides the opportunity to build trust and position your brand as the smart option.
Cons
Unfortunately, there's two major drawbacks to advertising during the off season.
Fewer want to commit to projects.

— It is the off season for a reason. Most homeowners are busy with the holidays and avoiding freezing weather, and starting a major home project is either the last thing they care about at the time or too pricey to think about between Christmas and tax season. That means when you do advertise, you won't have a large number of customers or customers who want big-ticket projects.

ROI could pace well below your busy season.

— Advertising is an investment, but the low response rate during the off season may not be enough to offset the investment you make. Marketing campaigns can quickly become expensive, especially in an omnichannel market with wide reach or high frequency.
As you can see, just because winter is the off season, that doesn't necessarily mean you shouldn't invest in some home improvement marketing in Joplin, Missouri. It has more than enough benefits to warrant serious consideration. There are still homeowners who want to or will take on projects during the winter, and that means there's the potential for positive ROI from home improvement advertising. However, it's worth remembering that marketing is not one-size-fits-all, and you should carefully consider whether this is the best choice for your business. Consider mitigating the risks by focusing on building awareness, emphasizing the benefits of projects during the off season (e.g., low cost), or promoting projects that don't open the home to the elements (e.g., remodeling the bathroom).