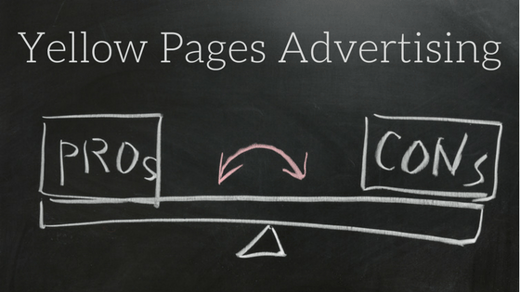 For a long time, Yellow Page advertising was the premier method of getting your business in front of potential customers because it was the reference everyone turned to regularly for contact information. Unfortunately, since the advent of the internet, and in turn mobile access to the internet and the social connectivity that followed, the need for the Yellow Pages (or, as they've somewhat rebranded, YP) has dropped. Even so, consumers turn to multiple resources as they move through the path to purchase. Understanding the pros and cons of Yellow Page advertising will help you determine if and how this channel should be a part of your marketing mix.
Even older, traditional formats have a place when you're designing an omnichannel marketing plan to reach your audience through a variety of touchpoints. At Zimmer, we strongly believe that cross-platform strategies that take advantage of multiple types of advertising are a big part of how many businesses ultimately reach their goals. That's why we've created this series: we want to provide adequate research to help you fully understand the major strengths and weaknesses of each platform in order to make successful advertising campaigns. Today's post is the sixth and final part in a series focusing on the pros and cons of each of the additional platforms: Radio, TV, Billboards, Newspaper, and Direct Mail. To see our last post on the pros and cons of direct mail ads, head here, or start with our first post about radio, here.
Pros of Yellow Page Advertising
Covers Geographic Segments
Even though the Yellow Pages has had to cut back on some of the hyper-targeted booklets, it's still segmented by geographical locations. In fact, many times it's incredibly localized and different books are published by county. This varies from region to region, of course, and sometimes it can be localized to the neighborhood level.
Long Use
Not all consumers will use the Yellow Pages, but when they do, they tend to keep the volume on hand for when they need it. Only one edition is printed annually, so you won't see the daily churn of a newspaper. If your customer missed your ad the first time, then there's always the chance they'll be exposed to it at some point in the year.
Print and Digital Bundles
The Yellow Pages aren't just the physical tomes of business numbers and ads that make their way to doorsteps around the country every year. YP.com and the YP app extend the brand's reach online and to mobile, and reportedly, 20 million businesses are listed, and 80 million people use the site or app every month. YP even offers a host of digital marketing options, including ypLocalAds and ypSearch (a SEM solution).
Category Benefits
Yellow Page advertising offers some built in targeting due to the fact that everything is already categorized by industry. When a customer knows what type of business they need to provide the products and services they want, they simply have to flip to the right section to see the local options. Combined with the geographical targeting inherent to phone book listings, this is incredibly powerful.
Trackable Responses
Like other print formats, with a well designed CTA, it's incredibly easy to track the responses from YP ads. If your ad features a coupon, the code can be specific to each phone book geographical edition you advertise in. Similarly, you can place a QR code that directs them to a specific landing page, or you could include the URL to a landing page in the ad.
Audience Ready to Buy
Most of the time, people pick up the Yellow Pages when they know what they're looking for, and that means they're very close to making a purchase decision. Having an ad in the print Yellow Pages positions your brand close to that final moment of truth, and the ROI is proof. According to YP itself, 71% of print edition searchers will go on to contact or visit a business after their search, and 84% of those intend to make a purchase. The impact lifts new customer numbers — 46% of people that purchase after a print YP search are new customers — while inspiring loyalty — 54% of YP searchers are repeat customers.
Cons of Yellow Page Advertising
Considered Old Fashioned
In previous parts of this series, we've discussed how powerful print still is as a medium. That extends to YP much less than with other print mediums. Between 2011 and 2015, phone book use fell in rural areas by more than 10% and in metro areas by more than 20%. Most users also tend to be over the age of 50, and only 29% of digital consumers are looking to YP to find businesses. This just goes to show that the medium is on the decline… but it's not dead yet. In rural areas in 2015, nearly 70% of consumers had used phone books to find a business. In metro areas, that number is much smaller — merely 40% — but it's still a significant number. Knowing whether your audience is using YP is what will mitigate or exacerbate this drawback.
Heavy Competition
Believe it or not, there are more phone books than just the old golden standard, Yellow Pages. If your business isn't being listed in all of them, you may be limiting your reach. More importantly, however, is the fact that because of the categorical organization YP uses, your ad is probably going to be featured alongside the ads and listings for your competitors. What's more, neighborhood editions in metro areas are being discontinued (e.g., the Brooklyn and Manhattan editions have been cut) which increases the number of businesses that will be listed in your category. That being said, because use rates have been dropping, many advertisers have pulled out. Yellow Page booklets are much thinner than they used to be, so there's the potential that your competitor isn't present, and your ad has a better chance of standing out above the noise.
Competition from Digital Alternatives
Digital directories are the biggest competition for printed Yellow Pages, especially in a mobile-centric market. Google alone functions as a major directory thanks to local search: local searches have led 50% of mobile users to visit store locations within a day. Platforms like Yelp are geared specifically for brand discovery and review sharing. And other social media platforms are honing in on brand-consumer relationships with new ways to contact businesses and even shop via the social app. It is worth reiterating, however, that the Yellow Pages haven't ignored the digital age. YP.com is an active online listing service that offers additional digital marketing and website/SEO services.
Difficult to Keep Up to Date
We mentioned that the Yellow Pages see long use, but that benefit is tempered by the fact that only one edition is published each year. You not only need to design a winning ad, but it needs to be an ad that will win throughout the entire year. There isn't the option to redirect the ad if it isn't meeting expectations or in response to changing market factors (industry, social, meteorological, etc.).
Only Reaches BOFU Audiences
Because of the way the Yellow Pages are used and the limitations of how often it's published, it severely limits the stage at which a customer finds your business there. Basically, consumers don't browse YP to get ideas. They pick up the booklet when they know what they want, and they want to find a business that will help with that; they're already at the bottom of the funnel.
People Must Seek It Out
The fact that your ad is static faces yet another problem: it can't provide meaningful frequency because people will only pick up the Yellow Pages when they're ready to find a business. Unlike a newspaper or magazine, they don't look through the booklet at any other time, so your ad can't be interruptive. Unlike TV and radio ads, people will not be exposed to your yellow page ad while eating at restaurants, while sitting in doctors' offices, while filling up their cars, etc.
Key Takeaways
There can be some powerful detractors to utilizing print Yellow Pages as an advertising medium. It's expensive as well as a fading medium that is used less and less often, and it's hard to compete against digital alternatives when it's also a medium that customers have to go looking for specifically. However, while it only reaches audiences at the bottom of the sales funnel, that also means these customers are ready to make a purchase decision, and the resulting ROI can be stunning. This is enhanced by geographic and categorical targeting, easy tracking, and the fact that if a consumer uses YP, they're likely to keep it on hand. Here's some more tips to keep in mind:
Always research your audience and ensure this is a medium they're using before you invest money in this kind of advertising. Keep your segmentation in mind and plan your ads accordingly.

Carefully craft your creative for the best impact on audiences who are ready to buy what it is you're offering. Remember that audiences are more likely to be rural and are more likely to be Boomers, but again, reference your audience research to speak to the audiences using YP.

Plan a CTA that's easy to track in order to ensure that you see accurate ROI. Especially since you're likely to be reaching BOFU audiences, your CTA should also be bold and clear.
Because every channel can play an important part in a solid marketing mix, be sure you understand the pros and cons of Yellow Page advertising. If your audience turns to this format, it can offer important ROI and sales you may be missing otherwise. Remember, we at Zimmer are proud to help clients develop striking marketing strategies and win across any platform. Contact us today to discover what we can do for you to take your advertising to the next level.