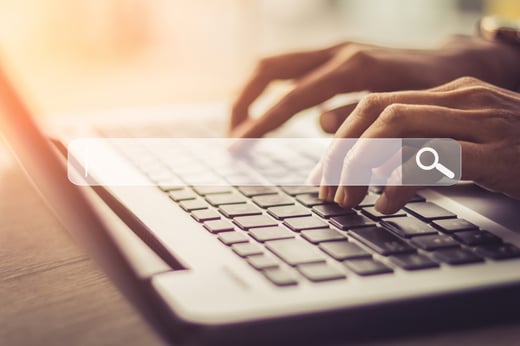 With 3.5 billion Google queries being made each day, search engines are critical to the customer journey. Savvy, empowered customers use search engines like Google and Bing to find and research the products and services they ultimately purchase.
In fact, 71% of consumers start their journey of discovering new products and services on a search engine, while 74% note using a search engine to research, compare, and even finally make final purchase decisions.
None of this may come as a surprise to you. Today, search engine optimization (SEO) is an essential marketing discipline, and businesses use specific SEO practices to help customers find them online. However, have you considered pairing search and radio advertising to boost your online search activity? While it may be difficult to imagine these mediums working together, recent research proves that combining radio and search works to influence consumers' online behavior.
Wait, what's organic search?
Organic search refers to the process in which a user enters a word or phrase into a search engine, yielding pages of results based on relevance and other ranking factors. Organic search does NOT include paid advertisements. SEO supports organic search by ensuring your business ranks high in organic search results for specific target keywords.
Why does this matter for your business? Users tend to click on results at the top of the search engine results page (SERP). In fact, 75% of users never scroll past the first page of search results. The goal is to use specific keywords to reach interested customers searching for your product or service.
While most SEO efforts focus primarily on website content - optimizing it with targeted keywords - other media is growing in popularity, and diversifying your approaches can help you reach the broadest consumer base.
Why radio is a winner
Radio drives search and influences consumers' online behavior. The most common scenario involves a listener hearing about a product or service on the radio — through ads, endorsements or even sponsorships of their favorite programming — and then searching online to find out more.
It makes sense that radio and search would go together, since radio is a high-reach platform and search allows targeted, highly interested customers to find your business online. The proof is in the data, according to a recent study commissioned by the Radio Advertising Bureau (RAB). Radio generated an average 29% increase in Google search activity, peaking at 33% during the morning commute. Radio even outpaced TV, as it drove 228% more search than TV in total as well as dollar-for-dollar per brand.
Not all radio is created equal
There are specific radio ad features to pay attention to in order to earn increased search. Some creative factors resonate more with audiences than others.
Using personalization to meet the needs of the listening demographic is key. Consider factors like gender, age, geography, income, education, and lifestyle to tailor your ads to receive the most attention. In fact, calling out specific locations is known to be particularly effective. You should also share product news, price deals, or even non-price offers, all with the goal of catching the audience's attention with some sort of memorable incentive.
To drive search, incorporate targeted keywords in your radio ads. Be sure to optimize specific website pages with the same keywords, since these are what listeners will remember to use as they search for you online. This ensures that your business will show up in organic search results when customers begin their online search.
Radio can boost search activity and influence customers' online behaviors. The tips listed above are just a few ways to optimize radio ads to drive search. Learn how Zimmer can help you with both radio advertising and SEO to reach interested customers, boost your company's online presence and achieve strong results.