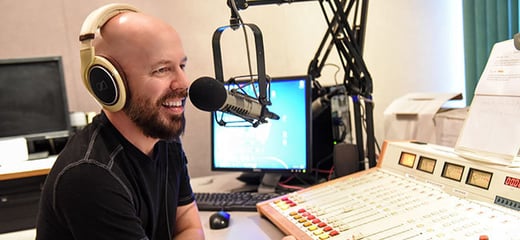 Every year, the radio industry's premiere magazine – Radio Ink – ranks America's top 30 program directors in the Country format. This year, Zimmer Radio's own Randy Brooks made the list thanks to his hard work and dedication to KIX 102.5 listeners. Since there are hundreds of country stations, this puts him into a very exclusive group. Here is more about Randy and how he was able to surpass all of the competition to make this list:
Why Randy Brooks Stands Above the Competition
Randy Brooks is not only the program director at KIX 102.5, but he is also half of the Morning KIX show alongside Kaylee, and they are on-air from 6AM-10AM every weekday. He has been in the radio business for 30 years, and has spent eight of them programming Country.
When asked what his biggest accomplishment was in 2018, he pointed to his winning of the Missouri Broadcasters Association award for Personality of the Year. This award, which was shared by co-host Kaylee, puts the team above all of the competition in the Association's area.
Despite being a master of Country format program direction, he believes that there are some changes that could be made in the industry. The primary one, he says, is that more directors should focus on creativity instead of making things easier and cheaper.
About Randy Brooks
Randy says he loves his job as show host and program director so much that he "can't believe they're still letting him" do it. He has held the position since he moved to Joplin, and has no plans of quitting. In his profile on KIX 102.5, he even admits that he'd "probably do this for free if they didn't pay me."
When he does manage to pry himself out of the control room, he goes home to a karate-loving family. He has studied the Okinawan martial art of Kobayashi Shorin-Ryu since childhood, and now holds a 5th-degree black belt and title of Shihan in this style. Now, his whole family "does karate," and he says it "makes for interesting family disputes."
Like many music radio presenters and directors, Randy is also a musician himself. He enjoys playing many instruments.
We congratulate Randy on being listed as one of the top 30 country format program directors by Radio Ink, and we look forward to many more years of his excellent direction. We also congratulate him on making Personality of the Year in the Missouri Broadcasters Association's award competition, along with co-host Kaylee.
There's no need to sit and wonder what makes Randy Brooks' show so great. Tune into KIX 102.5 from 6AM-10AM every weekday and hear it for yourself. You're sure to love the music and commentary delivered by Randy and Kaylee!