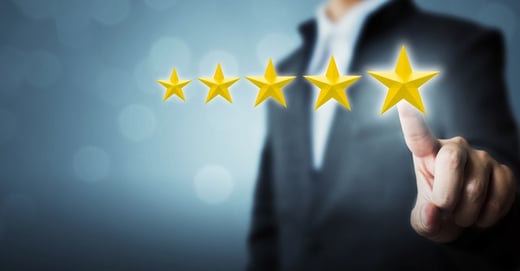 In today's digital age where information is readily available at our fingertips, consumers are accustomed to researching businesses before visiting them. Whether it's reading hotel reviews online before booking a vacation or asking friends and coworkers to recommend an attorney, accountant, or financial advisor, people want to learn about other customers' experiences.
Leaving your clients with positive impressions can help you get the ratings and reviews your firm deserves, ultimately helping build your practice and reputation for excellence.
How Reviews Can Impact Your Business
The simple truth is that people are more likely to hire you to represent them if the reviews they find of you and your firm online are favorable.
In a recent study by iLawyerMarketing, nearly 84 percent of survey respondents indicated they would only hire a law firm if its online reviews were four stars or higher. That means that, if your firm has negative reviews dragging down the average, you're less likely to get new clients – even if they're referred directly by existing or previous clients.
On the flip side, having positive reviews can be a boon for your firm. 70 percent of the people who responded to the survey indicated that they are willing to work with a highly-rated attorney in an inconvenient location over a poorly-rated attorney closer to home.
Majority Rules
The number of reviews your firm has matters too. Having just a few online reviews is good when they're overwhelmingly positive, but clients are even more likely to choose attorneys and firms with a higher number of reviews – even if the average review score was lower than the firm with just a handful of reviews.
Having more reviews also affects your firm's placement and rankings in Google search results which, in turn, means more people finding and clicking through to your site. This can further improve your rankings on search engines.
In fact, the iLawyerMarketing survey reported some surprising statistics. In the results of a search for a local law firm, the click rate for the second firm in the list was almost one and a half times higher than clicks on the first firm's listing. The second firm had 128 online reviews, compared to 38 for the first-listed firm.
Whose Reviews Matter?
There are a variety of online sites where clients review their experiences with attorneys and firms, including Yelp, Google+, Avvo, Lawyers.com, and more. If your firm is rated as a 4 or 5 on one site but has more reviews on a site where the firm's average rating is a 2, the good reviews on the first site won't do much to help the firm.
Understand which sites people in your practice area, demographic, and geographic area are using and encourage your clients to use those sites to provide unbiased reviews of their experiences. When you know your audience, you can use the sites where you have positive reviews to help gain potential clients' trust.
Bonus Tip: When you become aware of reviews of your firm online, the way you respond matters. Responding professionally and individually (as appropriate) to negative reviews can help strengthen your firm's reputation. In some cases, it's best to respond directly and privately. In other cases, an educated and well-crafted public response is better. Your response should show the reviewer you care, apologize for their poor experience, and provide advice as to how they can speak to someone to resolve the matter (if applicable.)
Reviews Matter. Make the Most of Them.
The way your current and previous clients review and rate their experiences with your firm can mean more – or less – business for you in the future. For better or worse, consumers consider law firm reviews when deciding whether to work with a firm or not. Therefore, it's critical to ensure your firm has reviews, and that it has plenty of them.
Not sure how to get started? The best way to start building your online reputation is simply by asking satisfied clients to review your firm.