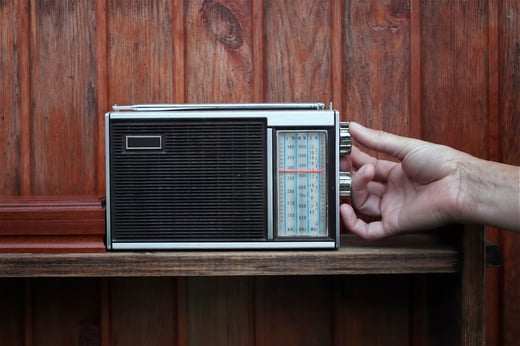 Many cities and markets have groups of iconic radio stations that have stood the test of time. Whether it be news, music or sports, these "heritage" stations have deep ties to the local community and are institutions in people's lives and daily routines.
So, it's no surprise that heritage radio in Joplin is particularly powerful. Joplin has a unique mix of heritage stations that have been around for years, and are likely here to stay. That's one reason why heritage radio advertising in Joplin is a smart marketing strategy for businesses in the area.
Here's an overview of how effective these Joplin radio stations are, and how to use heritage radio to boost your radio advertising results.
The Reach of Heritage Radio in Joplin
Joplin heritage radio is extremely strong, both in Joplin and in surrounding areas. KIX 102.5, for example, has been broadcasting the biggest country hits for over 30 years. KIX is in more than 35 counties surrounding the Joplin area, broadcasting news and severe weather updates, making it a staple for listeners for many reasons. With 59,000 weekly listeners (over the age of 12), KIX 102.5 is a great example of the broad reach that a heritage radio station can have in Joplin.
The heritage station with the largest reach in Joplin is KISSIN 92.5, which has been broadcasting Top 40 hits since its debut in 1960. KISSIN broadcasts at over 100,000 watts and reaches more than 35 counties in Mid-Missouri. Their reach extends to young professionals, students, and stay-at-home moms. The Kidd Kraddick morning show has become standard for many people, getting them laughing before work routines and commutes. KISSIN has 71,800 weekly adult listeners, making it one of the best heritage stations to advertise on in Joplin.
Loyalty of Heritage Radio Listeners in Joplin
Radio listeners' loyalty directly correlates with their consumer behavior, because they're not just loyal to radio stations, but to brands also. Whether it's car repair, tax services, or landscaping, heritage radio listeners know what they like and stick to it. That's why they're especially valuable to businesses, they generate repeat business and revenue over the long haul.
It's important to realize that heritage radio listeners are loyal because they've grown up listening to certain stations their entire lives. By doing so, they've gotten to know and formed a special connection with the on-air personalities. On KIX, for example, Brett James has been hosting the PM drive slot for 21 years and Randy Brooks, another popular DJ, has been on the air for 11 years. The afternoon drive slot on KISSIN has been hosted by Steve Kraus for 14 years. These station influencers have a huge impact on listeners. Heritage radio listeners know and trust their favorite personalities, so when it comes to recommending a wedding planner or a lawyer, they're likely to at least consider it. A recent survey found that 52% of radio listeners said their favorite DJ or on-air personality influences their purchase decisions. That's what's great about advertising on heritage radio. They trust the station, the personalities, and the products/services advertised on it.
To effectively use heritage radio to boost your radio advertising results, you'll want to work with your media partner to select the right station(s) that will be the best match for your brand and target audience. Next, find out what personalities and influencers your audience listens to and trusts. You might conduct surveys, questionnaires, or focus groups to help determine what shows and time slots are best to advertise on. Finally, make sure your advertising message indicates on some level that your business has been around for a while, can be trusted, and it's not going anywhere.
Heritage radio holds a lot of influence in Joplin and its surrounding areas. By tapping into the loyalty of these listeners, you'll be able to attract new customers that might stick with you for life.