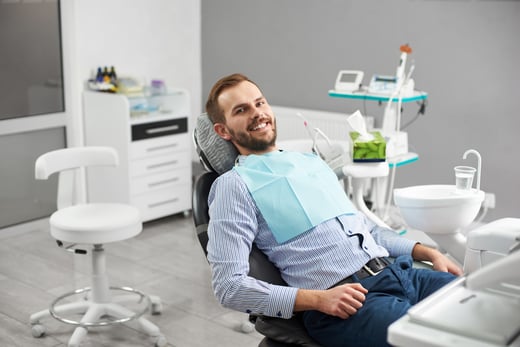 We live in a world where individuals crave convenience – especially when looking for services. And they often look to reviews for simple guidance that help them make smarter buying decisions. In fact, 85% of consumers trust online reviews as much as recommendations from a friend or family member, while 73% of them have more trust in a local business with positive reviews. Negative reviews are just as impactful, as 94% of customers say an online review has convinced them to avoid a business.
Similarly, patient reviews can significantly impact your dental practice. According to Dentistry IQ, roughly 50% of current patients would leave their network just to have a doctor with favorable online reviews. When patients leave positive reviews, it helps attract new clients who are searching online for a new dentist. Here are 4 ways to gather 5-star patient reviews for your dental practice:
1. Provide quality dental care
You can't have good reviews without good service. From the initial consultation to customer service to the quality of care, it's important to make sure patients are have a superior experience at your practice. Continuous assessment of your in-house operations and customer service protocols is key to ensuring you're providing the best care to every patient.
2. Ask your happy patients
Nothing beats a happy, satisfied patient who's ready to rave about your services. These are the patients you want to ask to endorse your practice by leaving a positive review. It's a win-win process: They will feel valued for their opinion and empowered to continue "spreading the love" about your practice.
3. Promote positive reviews
Incorporate positive reviews into your marketing strategy by including them in your social media, digital ads, radio ads and other marketing channels. This will not only motivate other patients to share one, but you can use these reviews to attract new patients. Positive reviews are a form of online word-of-mouth marketing, and promoting them can be instrumental in your success.
4. Manage your online reputation
Having an online presence comes with pros and cons. Although you may try to make everyone happy, there will be times when a patient is not satisfied with your services. They're most likely to share negative reviews, which have the potential to hurt your business.
That's why online reputation management is essential. If you find your dental practice being targeted by bad reviews, address them immediately, as 53% of customers expect businesses to respond to these reviews within a week. To do this, be sure to claim your accounts on Yelp, Google My Business and Healthgrades, allowing you to respond to any negative reviews or even get them removed.
Having positive patient reviews is a surefire way to help your dental practice thrive. When putting together your marketing plan, having a strategy in place to garner positive reviews from your patients should be a top priority. This can put you on track to gathering 5-star reviews that will help boost your business. The ultimate goal is to acquire new patients while retaining current ones, and positive reviews are key to achieving it.