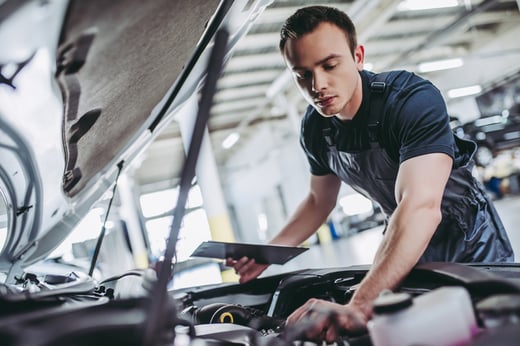 Attracting new customers is a challenge for any business, but it can be especially hard for auto repair shops. Although 75% of auto repair is performed by independent auto shops, factors such as the lack of transparency or high competition can lead to fewer new clients and decreased business. However, using social media can offer a range of benefits for auto repair shops, while also helping them stand out from the competition.
Using Social Media to Increase Business at Your Auto Shop
Social media allows you to address many of the concerns both women and men have when choosing a new mechanic. Here are some specific ways you can utilize this marketing channel:
Increase Transparency
A lack of transparency breeds distrust. Auto shops, due to the nature of their work, tend to have a low level of transparency. Without fully understanding what's happening under the hood, customers may feel uneasy about trusting your shop to fix their car.
You can use social media to dispel this mystery. Post videos of various repairs in progress, show off your staff, point out outstanding auto techs, and share images of your clean waiting room and shop area. Giving customers an inside look into your shop and services can boost transparency, and in turn, draw them into your shop.
Educate Consumers
Many auto repair customers, especially women, have "shop anxiety" due to a lack of knowledge of the processes involved in diagnosing and fixing a car. This often expresses itself as a fear of being overcharged. Therefore, your education should focus on explaining why your shop charges what it does (breaking down the costs of your services), and what is actually involved in making a variety of common repairs. You can use social media to spread this information through videos and posts.
Showcase Positive Reviews
A great way to spread the word about your high-quality service is to share positive reviews from satisfied customers in social media posts. Positive online reviews are essential, as 84% of people trust them as much as a personal recommendation. It's easy to collect and share reviews, too. On Facebook, for example, customers can go directly to your business page to leave a review and it will be displayed for other visitors to see. Or you can simply share any review you receive - in person or on paper - in a post on any of the social media platforms.
Maximize Customer Targeting
Most auto repair shops need to reach local customers to promote their services, and social media can help. Many platforms provide tools and features that allow you to segment and reach targeted audiences by demographics, geolocation and even the number of years they've owned their car. Continuing with the Facebook example, you can use the platform's advertising tool to deliver targeted ads specifically to people in the Joplin, MO, area who have owned their car for more than 15 years.
Social media can play an important role in driving business for your auto repair shop. Nearly 80% of Americans use it, so there's plenty of opportunity to reach local customers and bring them into your shop. Add it to your marketing toolkit to open new pathways to expanding your business.