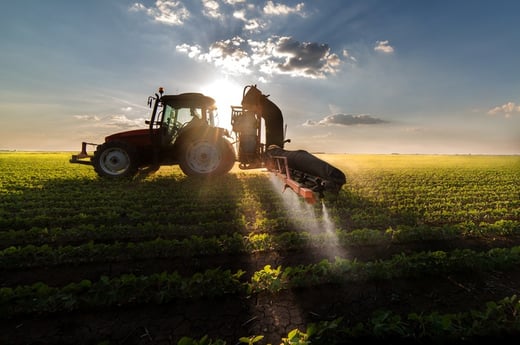 The number of retail options available to agricultural customers is much greater now than just a few years ago. Between the growth of local retailers and the advent of Amazon, customers now have many different places to turn for some or all of the equipment and supplies they need. Now more than ever, your tractor supply company needs to stand out. And the way to do that is with strategic, well executed marketing.
Take a look at the following three tips to best position your Joplin tractor supply business.
1. Uncover Your "Difference Maker"
If they can buy it anywhere, why buy it from you? Your "difference maker" is what makes customers choose your store over all the others. It's not simply about what you sell, but the underlying need that you can provide a solution for.
Think of Michelin's slogan, "So much is riding on your tires." It speaks to more than just buying a new set of tires — it's about providing safety, confidence, and peace of mind. Perhaps more pertinent is the success of Tractor Supply Co. Their difference maker is catering to the lifestyle of their target customers, with each store location carrying the right products to suit the people that shop there. They support this further by hiring staff that live and breathe the same lifestyle.
Your difference maker may be something else entirely, like being able to provide everything a customer could possibly need in one trip, offering the largest supply, or having consistent, competitive prices. If you haven't already identified your difference maker, be sure that you base it on research into your customer base and your competitors, not on assumptions. Consider your brand story and achievements when deciding what will help you stand out.
2. Think Beyond the Yellow Pages
To be clear, the Yellow Pages can be a great place to get found. However, you shouldn't limit your company to the Yellow Pages alone, because there are many other places your customers will look for information, solutions, and prices.
Customers that shop with a tractor supply business are often preparing to make an expensive purchase. They're going to do research, more and more online, and make their decision carefully. Will your company show up while they're doing that research? Having a solid website and creating online content that positions you as a thought leader can intersect with customers at key moments of that phase.
Get started by brainstorming common problems your customers face. These represent topics for potential blog posts, ebooks, or in-depth guides to help your customers and prospects make informed decisions. For example, Tractor Supply Co. has an entire Know How Central, a blog featuring how-tos and tips that further position their brand as trusted experts. You have expertise and stories to share, too.
If you're not quite ready to get started with content marketing, another smart step to take is to claim online business listings (e.g., on Facebook or Google My Business), and observe and engage on social review sites (e.g., Yelp). You might find the inspiration you need to start compiling articles and posts for your own website and blog.
3. Tap into the Power of Radio
Radio is a driving force in terms of reaching customers, driving action, and delivering ROI. Here are just a few stats that demonstrate why it can be incredibly useful to your tractor supply company:
82% of drivers

18 years and older used AM/FM radio in the last month.

47% of those said radio was the primary source of audio in-car.

93% of lead-in audiences

are retained throughout a radio commercial break.

Every $1 spent

by advertisers on radio led to $6 incremental sales on average for retailers.
Use the three tips above to start positioning your tractor supply business as a trusted source for your customers and prospects. At Zimmer Radio Inc., we understand the unique challenges you face, as well as how to turn your difference maker into a marketing strategy. While marketing may not be in your wheelhouse, it's our expertise — and how we help businesses flourish. Contact us today to discuss how we can help your company grow.