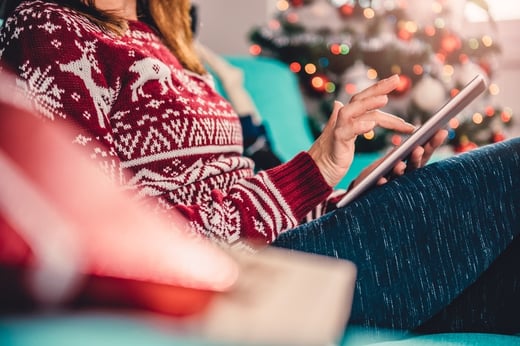 Tis the season for all things holiday, from spending time with friends and family and searching for the perfect gifts, to putting the perfect touch on your holiday season Facebook posts and marketing. We know the holidays can be busy and somewhat stressful, but if you follow these tips for your brand Facebook posts, you'll be sure to stand out from the crowd throughout the holidays!
Create a Calendar
With more than 2 billion active monthly users, Facebook by far outpaces other social networks, so it's incredibly important to ensure that your marketing efforts are carefully planned and strategized with your overall marketing efforts. Create a calendar and ensure that you have key posts scheduled and planned for important dates like Christmas and New Years. The visual of the calendar will help you stay focused and know where/when your efforts are going live.
Use Strong Visual Content
From your Facebook cover photo to your daily posts, using strong visual content is key is attracting the eyes if your audience and helping your brand stand out in a crowded and competitive marketplace. Did you know that there are approximately 300 million photos uploaded to Facebook daily? If you want to cut through the clutter, be sure to use images and content that are specifically tailored to your brand's target audience.
Speak to Your Audience's Emotion
The holiday season is one of the best times of the year to connect with your audience on a more personal level. Your customers tend to be more nostalgic, so use this to your advantage by creating content that speaks to them personally. Use your holiday season Facebook posts to tell a story about one of your employee's favorite holiday tradition or share their family recipes. If your business is involved with local charities, the holidays are a great time to share your efforts. By telling these emotion-based stories, you'll create a more authentic relationship with your audience.
Work Facebook Live into Your Schedule
Video continues to be an important marketing tool on social media, especially for small businesses. Facebook Live videos are watched three-times longer than non-live videos and receive more than 10-times the engagement of non-live videos. Let your audience take a peek at a fun moment-in-time, whether it's a broadcast of your office singing their favorite carols, recreating a scene from "A Christmas Story," sharing fun tips, or previewing a new product. These are great ways you can add some variety to your holiday season Facebook posts.
Create Posts For Engagement
Engagement is the name of the game on social media. While having a large audience in terms of total "likes" is great, it's more important that your audience is actively engaging with your page and content. Think about the types of content you interact with, then look for ways you can use that idea in a way that makes sense for your brand. Try asking people questions, such as their favorite holiday movies, songs, recipes or tips, tricks and holiday hacks. Encouraging your audience to share pictures and stories is a great way for your brand to showcase user-generated content — think cute pictures of dressed up pets and families or holiday lights and displays. The more festive, the better. A holiday advent calendar or countdown is a fun way to showcase products and promotions daily.
The key to being successful on social media is not only humanizing your brand and showing your audience that you're not a robot but also having fun while doing it. Facebook is a tremendous tool when it comes to marketing your business, so don't miss out on an opportunity to put your brand and products in front of a large audience, especially during the holiday season. Follow these tips for your brand Facebook posts during the busy holiday season and watch as your engagement and audience come alive. Contact us to learn more about how we can help boost your holiday marketing efforts.