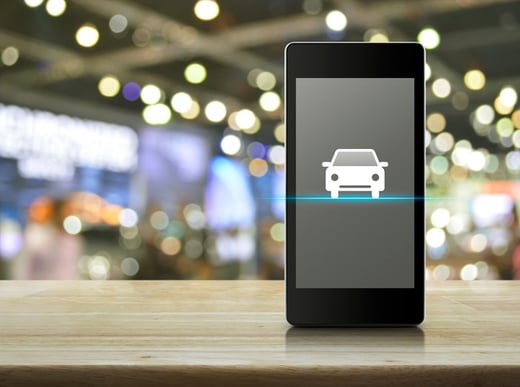 Did you know that more than half of automotive internet shoppers conduct research on a mobile device? If your competitors have a fully mobile-optimized website and you do not, you are making it more difficult for consumers to purchase from your dealership. According to the 2017 J.D. Power New Autoshopper Study, over one-third of internet research time is spent on a mobile device. There is a continued upward trend as consumers of all ages become more comfortable with online research and shopping. The bar for customer experience continues to rise as retailers such as Amazon, Target and Walmart create straightforward shopping sites and mobile apps that are exceptionally easy to use.
Disruptive Digital Experiences
This major disruption in the automotive buying cycle can be disastrous for dealerships who have not fully optimized their web presence for all types of interaction with shoppers. The changes also mean that there are tremendous opportunities for proactive marketers who are ready to reach beyond the basics and create a true competitive advantage in their region. These tips will help you reach the lucrative mobile auto shopping market with pertinent messages that will help them make a decision to purchase.
Mobile-Optimize Your Website
Making your website look good on a mobile device is really only the first step. Images should load quickly, navigation should be easy to manage and you should limit the number of words -- and amp up your pictures! Digital ads are often viewed on mobile devices. If you aren't thinking about mobile first, a big portion of your traffic is going to simply opt out of returning.
Use Targeted Keywords to Boost Search Results Placement
Using keywords to improve your organic search rankings (SEO, or Search Engine Optimization) is far different from bidding on keywords for PPC (pay-per-click) advertising. In general, you'll want to select purchase-based keywords for PPC advertising, while SEO keywords may be focused more towards what people are searching for specifically. Search Engine Land does a great comparison between SEO and PPC, how they differ and why SEO keywords are often preferable.
Show Ads to Self-Qualified Shoppers
Why would a Jeep dealership want to show ads to someone who is interested in a Ferrari? They probably wouldn't, which is one of the reasons it makes sense to micro-target your audience based on their online actions. Behavioral targeting is when you allow shoppers to self-qualify themselves to receive your ads based on items they click on or websites that they visit. Sophisticated websites that are optimized for digital marketing make it easy to communicate the most compelling message to each individual shopper.
Target Your Competitor's Customers with Geolocation
Can your physical sales team wander through your competitor's lots and attempt to grab customers as they browse? No, but your digital ads can do something similar! Creating a geofence around your competitor's dealerships allows you to serve ads to people in that area. Add geotargeting and you can reach these same individuals even after they leave the lot.
Target Specific Audience Segments with Ad Network

s
Digital advertising used to consist of web banners that were purchased for a specific website. Today's web-based ads are more likely to be purchased via an ad network, allowing you to serve ads to individuals across a wide range of websites based on the specific characteristics of that audience segment.
Target Auto Show Attendees with Event Marketing
Don't be afraid to hijack and event hashtag in order to get your message out to the masses. Try joining in the conversation around the next auto show or convention that comes to town. You can add geofencing and targeting to reach attendees, or geo-fencing to go back in time to find attendees of a show that has already passed.
These tactics are all built on the based of your mobile-first and provide you with excellent opportunities to reach motivated automotive shoppers. Ready to learn more and begin implementing these digital advertising tactics today? Contact Zimmer Radio Inc. today at 417-624-1025 or fill out our quick online contact form. We are your source for digital advertising expertise in the Joplin area!