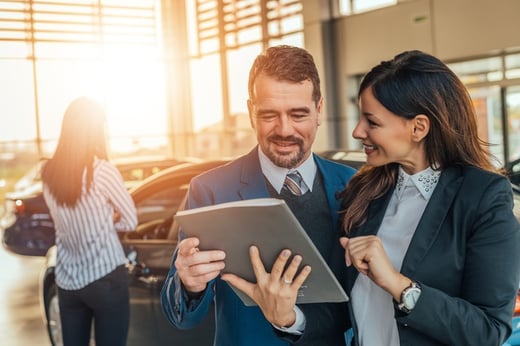 Any good auto dealer can tell you that closing a sale means providing for a lot more than just a vehicle and service package. People don't come in looking for a new (or new to them) car. They're looking to meet social and emotional needs: long-term reliability, safety for both themselves and those they care about, an expression of what they've achieved… A parent may ask about safety ratings, but what they don't say is that they're worried about the kid headed off to college. (Their child, on the other hand, will probably openly tell you they want to feel cool driving it.) They may ask about mileage and repairs, but they won't mention that they have to have a car in order to get a job
These core needs, which are as specific as they are unique, put them in a position where they're looking for a trustworthy partner with their best interests in mind. They want to buy from a dealership that helps them honestly navigate their options so that they ultimately drive away in a vehicle they can feel good about. Great salespeople inherently understand this and tap into those needs throughout their selling process.
This empathy and connection needs to be present in your marketing, too. For buyers, the purchase decision probably starts long before they actually stop by your dealership. To gain mental real estate and become their top choice, you need to tap into these underlying needs in your marketing.
3 Things Your Marketing Should Say About Your Dealership
Targeted advertising to segmented groups (e.g., parents versus adults seeking employment) can speak more directly to specific needs. However, there are a few things that your marketing always needs to express, no matter how broad your audience.
1. "We Know Our Stuff."
Buyers want your help in making the best choice to suit their needs. Demonstrating your expertise will be critical to capturing their attention across marketing channels, which extends to much more than just your advertising. It should be readily apparent in your About Us page on your website, and supported through team bios. Expertise is especially easy to demonstrate through helpful and educational content, such as blog posts, social media updates, and how-to videos. When expressing it in advertising, like radio spots, be sure to get creative — you want to show them you're experts, not share a list of attributes. Above all, do not speak down to your audience. It should feel like you're helping them, not insulting them.
2. "There Won't Be Any Bad Surprises."
The automotive buying experience gets a bad rap, and that builds in a lot of anxiety for some customers. That makes transparency especially important. You can set car hunters' minds at ease by building in "proof points" that demonstrate honesty and authenticity. At the very least, your website should feature FAQs that put everything on the table. More pertinently, you should be sharing customer stories through your blog, or even through radio spots. The genuine nature of these stories gives your audience a peek behind the curtain at what they can expect to experience at your dealership.
3. "We're Here to Help… Really."
Embracing transparency helps with something else — building trust. Buyers don't want to go to a dealership that will give them a hard sell for a vehicle that doesn't fit their needs, or attempt to upsell them on what they can't afford. Thus, your marketing should reflect the value you put on lasting relationships with buyers and the focus you have on their best interests. Part of this can fold in with our first two points — getting-to-know-you interviews with your staff can authentically and transparently demonstrate their expertise and approach to prospects. Video is very effective, but other types of interviews and about-us moments are just as valid. You could run a series of radio ads, for instance, that gave each of your sales team a chance to talk directly to your audience. Another aspect of building trust is relying on someone your target audience already trusts — other buyers — by leveraging testimonials and ratings.
The most effective marketing achieves results because it can touch customers on a deeper level. At your dealership, you're not just selling a car — you're selling an experience. Ensure your marketing reflects that fact.